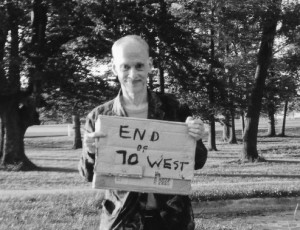 God, I did enjoy this book. Who would have thought that a pensioner would come up with the daft idea of hitchhiking across America? John Waters that's who!
The man who discovered Divine brought us such celluloid trash as Pink Flamingos, Cecil B. Demented and Hairspray has now come up with a novel that is… unique.
Fantasies, both the pleasant and the not so… are regaled as he sticks out his thumb, lifts up a cardboard sign that says 'I'M NOT PSYCHO' and heads from his home in Baltimore on the East coast to other home in San Francisco.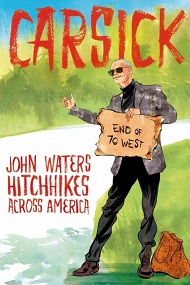 He flirts with the idea of what it would be like to have a fantastic journey, where lift after lift is just the most perfect of travelling companions. However, what if each lift was dicing with the loony, the hateful and the rabid psycho, would our hero be able to cope?
The 66 year-old actually does the journey so you can find out what really happened to the 'Pope of Trash' as he hops across American relying on his fellow-countrymen to be the generous citizens he hopes they will be.
Funny, weird and engrossing… a bit like Mr Waters himself.
Carsick by John Waters – Out October – Corsair