One Man Lord of the Rings to tour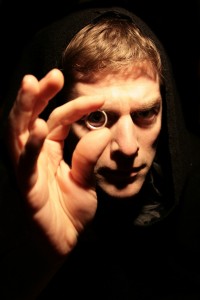 One Man Lord of the Rings™ and One Man Star Wars™ Trilogy will embark on a UK tour following a successful season at the 2014 Edinburgh Festival Fringe.
The shows are written and performed by Canadian actor Charles Ross, who was given permission to perform them when he presented the shows to the owners of the franchises. Lucasfilm went as far as inviting him to perform his One Man Star Wars™ Trilogy at official Star Wars™ conventions.
In One Man Lord of the Rings™, Ross recreates the enchanting world of Middle-Earth with nothing more than elbow pads and his outrageous imagination, and takes his audience on a journey through the trilogy: The Fellowship of the Ring, The Two Towers, and Return of the King in 3600 seconds of unbelievable kinetic entertainment.
Much of Charles Ross's childhood was spent in a galaxy far, far away, watching Star Wars™ videos over – and over – and over again. The result of this misspent youth is his hilarious One Man Star Wars™ Trilogy, where he recreates the 1977-82 films and single-handedly plays all the characters, sings the music, flies the ships, fights the battles and condenses the plots into just sixty minutes.
As Charles Ross puts it, "The Lord of the Rings™ and Star Wars™ Trilogy (despite its 1970s/1980s hairdos) both have something that elevates them beyond other films. Maybe it's Alec Guinness's effortless turn as Obiwan Kenobi, like Ian McKellen's sublime Gandalf the Grey. Perhaps it's the music, the epic scale, or the battle between light and darkness? Whatever it is, I'm reminded of the simplicity of childhood, feeling whisked away upon the adventures of Luke Skywalker or Frodo Baggins. Immersed in a fantasy world of lasers, swords, spaceships, and monsters – fun, FUN, FUNNNNN!"
Charles Ross has been touring One Man Star Wars™ Trilogy since 2002. There have been over 1,200 performances in more than 230 cities across four continents. From New York to London, from Dubai's resorts to the Glastonbury Music Festival, with stops in the USA, UK, United Arab Emirates, Australia, Ireland, Singapore and New Zealand, the show has spread far and wide. After a brief outing in 2004, Ross was eventually granted official permission to perform One Man Lord of the Rings™ in 2009, since when he has toured this as extensively as its older sibling.
The tour will begin in High Wycombe on 26th September and finish on 17th October.
Twitter: @OneManStarWars / @onemanlotr
Facebook: One Man Star Wars Trilogy – Charlie Ross / One Man Lord Of The Rings