BLOCKBUSTER – The Musical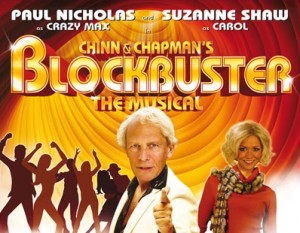 BLOCKBUSTER The Musical follows the global success of Mamma Mia and We Will Rock You and features classic hits by Sweet, Suzi Quatro, Smokie, Tina Turner and Mud, including… BALLROOM BLITZ, BLOCKBUSTER, TIGER FEET, CAN THE CAN, DEVIL GATE DRIVE, SOME GIRLS, LAY BACK IN THE ARMS OF SOMEONE, LIVING NEXT DOOR TO ALICE, TEENAGE RAMPAGE, KISS YOU ALL OVER, OH CAROL, BETTER BE GOOD TO ME, LITTLE WILLY, THE CAT CREPT IN, LONELY THIS CHRISTMAS, MICKEY and many, many more. The book is by David Soames who co-wrote the musical Time for Cliff Richard, that ran for two years in the West End at the Dominion Theatre.
BLOCKBUSTER The Musical begins in 2014 with Mickey Block (Aaron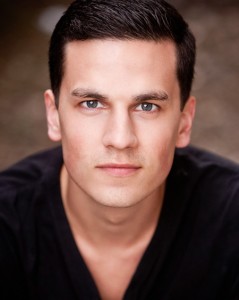 Sidwell), a young busker, singing in London's Soho. Mickey has borrowed money to buy a car. Unfortunately he crashes it without insuring it and is now being pursued by Charlie Daz, a "loan shark" to whom he owes money. Taking refuge in Crazy Max's Retro Record shop, Mickey meets Max (Paul Nicholas), a mystical figure, who discovers Mickey has problems and tells him he can turn his life around if he performs two selfless deeds within seven days. With Charlie Daz in hot pursuit, Mickey has nothing to lose and agrees. Max tells Mickey to hide in the store's record booth and as Charlie Daz enters the shop, Max starts the booth spinning and transports Mickey back in time to London and 1975… Mickey is totally disorientated as he tumbles back in time and out of the storeroom cupboard of the main Hall of Ealing College. Befriended by Carol (Suzanne Shaw), the lead singer of the college band, he also meets her less than reliable boyfriend Steve and Teresa, an Anti-Vietnam war activist. Mickey is instantly smitten and he and Teresa find themselves falling in love. Steve has gambling debts and is about to be arrested for selling stolen cameras. Things go from bad to worse when Teresa, while leading a demo outside the American Embassy, is kicked by a police horse and rushed to hospital in a coma. Can Mickey help Teresa pull through and out of her coma? And can he help Carol and stop the police arresting Steve, the boy she loves? Mickey remembers Max's words, 'Two Good Deeds Mickey'. Can Mickey fulfil his destiny and turn his life around or has time run out and will Max transport him back to 2014? All will be revealed in BLOCKBUSTER The Musical…
BLOCKBUSTER The Musical is to get its world premiere at the Orchard Theatre, Dartford from Thursday 11 – Saturday 20 September. It will then tour to the Alexandra Theatre, Birmingham, Monday 22 – Saturday 27 September and Ashcroft Theatre, Croydon, Monday 29 September – Saturday 4 October, before embarking on a No1 UK tour in 2015.