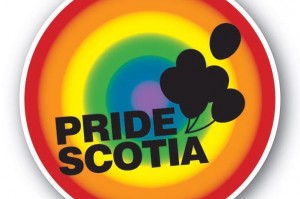 Pride Scotia Returns to Edinburgh for its 10th Annual outing. From 1995 to 2008, Pride marches took place in Edinburgh and Glasgow alternating year about. Pride Scotia now allows Scotland's LGBT Community to celebrate their diversity every year whilst enjoying the best in entertainment and events.
Why Pride?
Pride continues to demonstrate both our thanks as an LGBT community for the equality we now enjoy and in some case take for granted here in Scotland. It also confirms our belief in the journey we continue to travel to eradicate homophobia and transphobia in our schools and social lives. We continue to strive to inform the next generation that no matter your sexuality, things do get better and love is for everyone. More importantly, Pride Scotia takes its place on the international stage to condemn those countries which do not have Pride movements, who continue to victimise LGBT people and in some case continue to put to death those brave enough to be who they are. Pride Scotia is proud to demonstrate in rainbow of colours our diversity and acceptances that love is love and we shouldn't judge on who we love and feel love from. Saturday 21st June is the day to do that in Edinburgh regardless of our own sexuality.
Pride Festival:
2014 marks the return of the Pride Fringe Festival, showcasing the best In Theatre, Film, Club Nights, Art and Public Debate and Remembrance. Highlights include the award winning Play "Thief". Fresh from its debut run in the Brighton Fringe and prior to its debut in the Edinburgh Fringe Festival it joins Pride Scotia for two exclusive performances on 19th and 20th of June.
Also in the theatre Category comes "Shafted", a cabaret evening exploring life with HIV. With the continued rise in infections across the UK this will be a timely reminder of the impact a positive diagnosis can bring.
Other Highlights of the festival include women's only events on Thursday night including a panel discussion with professionals from the creative industries, A Reflection Event on Friday night, Pride Breakfast on Saturday morning before the Pride March and a ceilidh on Sunday night (22nd) to bring the Pride festival to a fitting close.
Pride Day!
On Saturday 21st the LGBT community and its supporters will gather together outside the Scottish Parliament from 11.30am before leaving at Noon to march up the Royal Mile to the City Chambers where there will be speeches before continuing on to Bristo Square and Teviot Row for Pride Scotia's "Party in the Square" with LIVE Entertainment over 2 stages, licensed bars both indoors and outdoors and BBQ and Ice Cream. This is a FREE Event.
Confirmed acts for this year's event include Scotland's Edward Reid (Britain's Got Talent), Kitty Brucknell (X Factor), Lloyd Daniels (X Factor) performing alongside UK's No.1 Pink Tribute 'Almost Pink', Glasgow's Urban/Dance Act 'The Rhetoriks', and back by popular demand Ryan Jagger. They will share the main outdoor stage, with a wealth of talent from across the UK. Our 'New Talent' stage will feature the best of community acts and artists. Our Main Stage will be hosted by Drag Queen Vanity Von Glow and Edward Reid. For full details of the complete line up please check out the Pride Scotia Website.
We will also have our Health and Community Fair promoting the services available across the LGBT Sector in Scotland. There will also be a Tea Dance hosted by the Sisters and Brothers of the Order of Perpetual Indulgence with FREE tea, cakes and sandwiches. 2014 promises to be the biggest Pride Event to date in Edinburgh.
Thank You!
Pride Scotia is truly indebted to our sponsors for the 2014 festival our Headline Sponsors Chalky's Late Night Lounge and Planet Bar Edinburgh, and the many others who have kindly given towards this year's event including Café Habana, CC Blooms and Unison Scotland. Also to our accommodation and media partners, Our design sponsor KABOOM and our VIP Sponsors, finally our additional sponsors for the Fringe Festival Events. and finally The Edinburgh International Film Festival who are showing some new LGBT Films at the Edinburgh Film House during the Pride Festival.