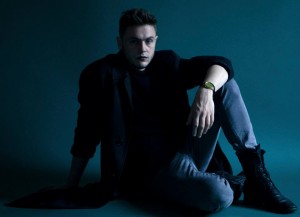 Now here's an artist from a place where we hear very little of – Heiðrik is a Faroese singer, songwriter and producer, who has recently been working on his upcoming debut single, the enigmatically titled – Maria's Donkey.
He is well known to gay music-lovers in his homeland, as well as Iceland and Denmark, especially when he teamed up with the multi-award winning composer Rosabella Gregory (BMI Award, Cosmopolitan Woman Of Achievement, BBC Pebble Mill Winner, Pullen Memorial Prize) to create a unique strings- driven arrangement for his song.
Having collaborated with the likes of Jools Holland and Delilah, Rosabella's long-standing experience gorgeously compliments Heiðrik's creative songwriting skills to bring together the sonically elegant Maria's Donkey.
The tone is set immediately by a very minimalistic intro with just the pizzicato strings for company. Leading into a soft and crystal-clear vocal, it creates a feeling of restraint that is softly audible to the listener.
Maria's Donkey resembles Gotye doing a Lars Von Trier soundtrack, and is an interesting lead into the world of one of Scandinavia's hottest new artists. In other words, Heiðrik's upcoming new single is a real treat for everyone, and will be available for sale and download everywhere from 14th July.
"Heidrik has created a world akin to Middle Earth, where beauty and harshness come together as the perfect place to feature the dynamics of the human spirit as he transports the listener."- Indie Shuffle
Facebook: https://www.facebook.com/heidrik
Twitter: https://twitter.com/heidrik