Travel – Tune into Tunisia!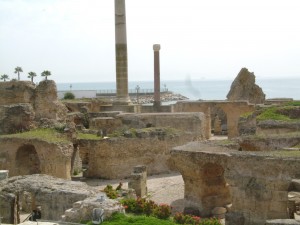 A short flight from home but a whole world away, Adrian Gillan falls in love with Tunisia…
Founded in the 8th Century BC by Phoenician traders (from Lebanon, as now is), old Carthage (home to Dido, besotted of Aeneas; birthplace of great Alp-crossing general Hannibal) was the stuff of legend which took on the might of Rome before, after many wars, being crushed and rebuilt as the Roman African HQ for the next six centuries. Then came the Germans (Vandals); the Byzantines; the Arabs; the French; the Germans (Nazis) again; the French again (the region is still largely French/Arabic bilingual); then Tunisian independence in 1956 and virtual dictatorship. Then came the so-called 'Arab Spring' in 2011, the dust from which is, in many ways, still settling.
But little Tunisia (population 10 million, 2 million of them in capital Tunis) loves, and needs, it tourists. Thus, so long as (in general) you stay well away from its borders with Libya and Algeria, and (if gay) play your sexuality fairly discreetly – note: officially, there's up to 3 years' jail for even consensual private gay acts – it's as safe as most other Mediterranean destinations. It's under 100 miles from Italy/Sicily, just a tad more exotic! Flight time from UK: 2½-3 hours. Time difference: GMT +1. Money: 2.5 Tunisian Dinars = £1 approx.
TO STAY

For affordable well-located all-inclusive 4-star luxury, stay at Les Orangers Beach Resort Hotel (Rue de Nevers, Hammamet 8050; T: +216 72 280 144;) on the calm edge of major tourist centre Hammamet, amidst soft sand, glaring sunshine and glittering turquoise sea – ideal for complete relaxation. The stylish, comfortable and spacious air-conditioned rooms all have balconies; the roomy 'bungalows' boasting terraces that lead right onto the beach, brill for lazy breakfasts! Sip cocktails at one of the many bars, or mint tea in the Moorish café; or enjoy a free massage or Turkish bath. For those more active, the resort boasts two main pools (indoor, outdoor) and a sun deck, plus a wide range of sports and other fun for all the family – from tennis or ping-pong to gym or volleyball – plus nocturnal entertainment too, including discos and shows. Lots of extra facilities and services just for kids! 'All Inclusive' means full board with buffet-style breakfast, lunch and dinner at a variety of restaurants, plus snacks at the pool and beach bars, and free local wines, beers and spirits at all times. Amazing waiter service on hand throughout. Utterly fantastic!
TO SEE 'N DO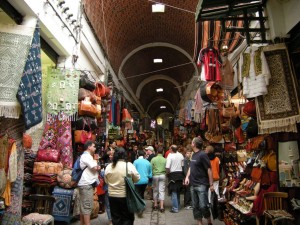 Tunisia is a small country, about the size of England and Wales, so you can pack a lot in in just a few days. You can doubtless book lots of organised tours via your hotel. Or, for the more free-spirited, transport connections are incredibly cheap and easy via tubes, trains, buses, taxis and louages (shared taxis, where you really get to meet the locals). Some absolute musts:
Tunis – bustling capital with grand French colonial Ville Nouvelle; plus older Arab Medina, entered through impressive arch/gate (next to the former British Embassy), with Great Mosque and souks. Also check out the nearby mosaic-crammed Bardo Museum and peaceful Belvedere Park. Gents oft 'take airs' along the main Avenue Habib Bourguiba by night; or steam off 'excess' in Les Bains Guerin Hammam (Rue de l'Ancienne Douane, off the Rue de la Kasbah, Medina) by day. As ever, be discreet; and beware.
Carthage – don't expect Pompey, but still quite a few fragments of former Roman glories do remain (amphitheatre, theatre, villas, baths and harbours; plus museum) over a spread-out but walkable area (buy a combined ticket for access to all), reached by local metro train on the outskirts of Tunis. For the real Roman ruins…
El Djem – …staggering remains of (elegantly tad-unfinished) Roman amphitheatre, plus ace museum full of yet more jaw-droppingly beautiful and vibrant mosaics.
Dougga – …arguably the most impressive ancient Roman site outside Europe, on a fab hilltop location.
Sahara Desert – to ride camels over dunes; or to spend the night be-tented beneath the stars.
Other – the main Tunisian resorts of Hammamet, Sousse and Monastir all boast medinas (old towns), souks (markets) and kasbahs/ribats (forts). For mosques galore, visit Kairouan. For peace, visit Djerba, a picturesque island just offshore a little further south down along the coast, linked to the mainland by bridge.
OTHER USEFUL CONTACTS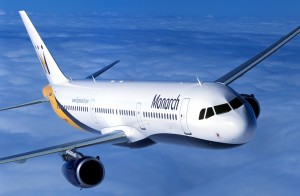 Monarch, the scheduled leisure airline, is operating new flights for summer 2014 to Enfidha (Tunisia) from Manchester and London Gatwick airports with fares, including taxes, starting from £36.99 one way (£102.98 return). In addition to year-round low fares, Monarch also offers a range of products and services, both on the ground and in-flight. Everyone is allocated a seat at check-in but seats can be pre-booked from £4.99 per one-way flight, to ensure that families and groups are seated together. For those looking for added comfort, extra legroom seats are also available, offering up to 15% extra space for your legs, from only £12.99 one-way. You can do your online check-in between 28 days and 6 hours pre departure. A great range of tasty hot and cold meals can be pre-booked or purchased onboard.