The Greatest Gayest Sporting Event of the Year is Back!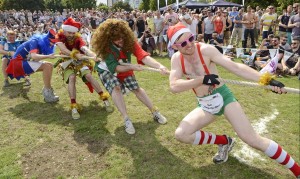 Photos: Chris Jepson
   Move over IAAF Diamond League and let the real athletes show you how track and field should be done. Yes, the RVT / GMFA annual sports day is back! This annual carnival of athletic mayhem takes place on bank holiday Monday, 25 August, at the Vauxhall Pleasure Gardens (just behind the Royal Vauxhall Tavern) and will be hosted by Timberlina. Registration for teams is now open so it's time to get inspired, get training and help raise vital funds to support HIV prevention for gay men and to benefit the local community.
As is now traditional, the Vauxhall Sports Day will revisit old-skool sporting events with a big gay twist, so you can thrill to the Handbag Toss, gasp at the 50m mince and jump for joy for the Space Hopper relay. If you're fed up of watching from the side-lines and want to show off your sporting prowess, form a team and register now. Everyone is welcome to take part, whatever your sexual preference, gender or athletic ability but there are only a limited number of places for teams. To help inspire you, this year's (optional) theme is Superheroes!
To register, email michael.flaherty@gmfa.org.uk  or visit www.gmfa.org.uk/sportsday  to view videos and pictures of previous events.
Matthew Hodson, GMFA's Chief Executive, commented: "Each year Sports Day gets bigger, better and more outrageous. If you've never been to a Sports Day before, you're missing a real treat. It's like the World Cup but with bigger balls."

The Gay Sports Day is an institution dating back to the 80s. This is the 8th successive year that GMFA, the gay men's health charity, and the Royal Vauxhall Tavern have joined forces to host the event. Money raised from the event funds GMFA's sexual health work for gay men, including HIV prevention campaigns like 'Think Again', their websites (www.gmfa.org.uk ) and FS magazine (www.fsmag.org.uk ). GMFA currently receives no money from the Government for their HIV prevention work and relies upon the support of the gay community to fund this work. Money raised will also go to two organisations that help look after the local Vauxhall community – Vauxhall City Farm and The Friends of Vauxhall Pleasure Gardens.
Each team of five collects sponsorship for the event, with a minimum of £500 expected from each team. There are three award categories with medals for the winning team, for the team that raises the most money and for the team with the best outfits.
Matthew adds: "Sports Day is all about fun, celebration and giving back to the community. The money raised at this year's event will help GMFA to prevent new HIV infections by giving us money to run campaigns, like the 'Think Again' ads, which have got young gay men to consider how HIV could affect them. We've got more campaigns coming up this year and every penny raised will help us to ensure that we can reach more gay men with HIV prevention information. So whether you want to show off your sporting prowess, your finest fancy dress, or just to cheer from the sidelines, we hope to see you there."