It's in the Cannes by Jonathan Dahl.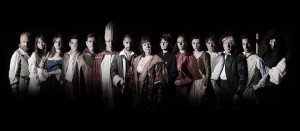 Being an actor isn't as glamorous as the end result may appear. We have to cope with all the stresses that come with performing in front of an audience or the camera.
"What kind of stresses?" I hear some of you say. "After all you're not working 10 hours down the pit or facing the Taliban on the frontline."  You've got me there but being an actor brings its own insecurities (and we can be an awfully insecure bunch), that keep us awake not only at night but also onset or on stage.
From wondering when the phone is going to ring and it being the dream role you always wanted to play, to the film director wanting the same scene shot numerous times because he's 'not sure' or the stage director who wants everything done their way. Alternatively, you can often feel that a part you are developing has run out of time and you have to go on and perform half cocked (so to speak).
Technically, if you work in TV Soapland there is very little time for error and you have to be 100% on the ball because it can be like a production line… getting the product out there. Having said that, being in a 'soap' brings with it a working discipline that can be exhausting, as well as rewarding. Working in film and other TV dramas there is a little more leeway as you have a longer time span of shooting, though it is still always better to have your sides (script) learnt as the last thing you want to do is vex the Director.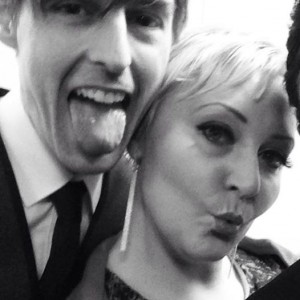 Doing a bedroom scene is also not as glamorous as it may come across on telly. For starters you have a crew; that can be anything from twenty to sixty people on set watching you perform and it can be really intimidating… we actors are a plucky bunch so you have to deliver regardless.
Whether you are working on stage or on screen there can also be long periods of standing/sitting around behind the scenes/backstage until you are required to do your bit and that can be stressful. This may sound fun, lounging around doing nothing but let me tell you, if you get an early call and you've been ready to go for a few hours, that waiting can become the most fatiguing part of the acting process.  There is also the problem of going long periods without regular work unless you are in a long standing Serial Drama or a Hollywood 'A' Lister.
Besides putting myself out there attending castings and seeing what roles are suitable for me, I have most recently been headhunted three or four times – one of which was being invited for a Feature Film audition.
Some auditions can be quite tense as you never know what to expect because each one is different. Some require learning the script: others are just improvisation based. On top of this you get some casting agents who greet you kindly and others who just sit there gawping at you with a face like a smacked arse.  You don't know whether to laugh or cry as it can be unnerving and sometimes hinder your chance of gaining the part if it knocks your confidence.
Being a jobbing actor doesn't faze me as I love what I do and I thrive on being in front of an audience or camera… no matter how long or short the time between roles… I'm ready. As soon as the Director shouts 'Action' I am totally in the zone and buzzing with adrenaline for whatever role I may be playing.
It has been in the last five years in the industry that things finally began to turn around for me when I began working on short films and landed my first speaking role in front of the camera. This gave me the opportunity to finally create a showreel and having a 'reel' is the best way for Casting Agents to see you showcase your work. It gives you a much better chance of winning the part than if they were just browsing your resume and looking at your (required) head shot. Some actors spend loads of money on these photographs to go in the industry book 'Spotlight', which is seen by those who are in a position to offer you work. So that broody, well-lit look might work, although I think the showreel is a better way of selling yourself.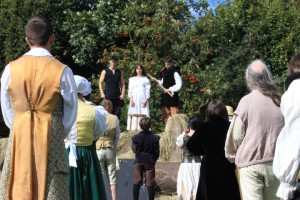 During the autumn of 2013, I was involved in a short film called 'VIII' playing the Executioner that was shot by my agent and it was entered into the Cannes Film Festival 2014.
The film is basically a new take on Henry VIII but with a twist. All the characters are role reversal, so the role of the king is actually Henrietta and played by an actress, and the same with the other roles. Catherine Howard is Christian Howard and portrayed by an actor. For this genre of film it is the first time anyone has come up with the idea and the whole cast are overjoyed at the success it has so far achieved in such a small space of time.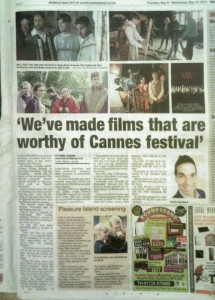 You often hope that some project you are involved in, and have faith in, will be successful but the business that I am in can be fickle. Everyone in the cast and crew are overjoyed that the Cannes Festival has picked up on it and things seem to have taken off as a result.
Besides my representatives heading to Cannes later this month, there has recently been a premiere evening with media and TV production companies in attendance, which I am still trying to get my head around. I have been to many screenings of the short films I have worked on but nothing as big as this.
The media appears to like what they see; a local production reaching out, doing something different and being appreciated at an international level.
For me the feeling is something special. A vindication of the career I wanted to pursue, despite its many turns, dead-ends and disappointments. I love the attention. I love being part of all that is happening. I love seeing my face on screen and I can't convey to you have much I love being Jonathan Dahl right now and I can't wait for my next project.
This is the 4th and final piece featuring  Jonathan on his acting journey.
To read the other items go to Bent Mag  and search Jonathan Dahl.