Saltire Thistle FC Wins GFSN League Division 1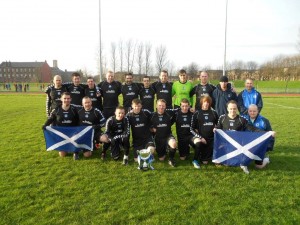 Glasgow and the West of Scotland's LGBT friendly side Saltire Thistle FC were this weekend crowned national champions of the Gay Football Supporters' Network (GFSN) League – the world's only permanent national LGBT football league.
After beating local rivals HotScots FC 5-3 on Saturday, last year's champions London Falcons needed a win over Yorkshire Terriers at home to be in with a chance of catching Saltire Thistle, they lost 1-0. The result meant that Saltire Thistle FC were champions, becoming the first Scottish team to win the league in its 12-year history.
This is Saltire Thistle's 3rd title in 3 seasons, winning both the third & second divisions en route to their maiden first division title. Having only been established 4 years ago, it has been a quick and dominant rise to the top of the GFSN for a team that started out with 10 strangers meeting up for a game of 5-a-side. The club now boasts a membership of over 40 with that number continuing to rise.
Saltire Thistle chairman Iain Sharkey said: "Today more than usual I am a very proud chairman of Saltire Thistle Football Club. By progressing through the divisions of the GFSN and by winning three consecutive titles our vision and planning has paid off allowing us to become the club we are today. As well as our players, manager, committee and loyal supporters we would not have been as successful as we are without the support of the local LGBT community, in particular our sponsors Underground Bar. Their commitment to Saltire Thistle has been invaluable and I'd like to thank them for their continued support. Our success is only the beginning, the foundations are set to allow us to continue to grow and we are already planning for the future. Today however we can celebrate and enjoy our success as the first Scottish club to win the GFSN league division 1."
GFSN Spokesperson Simon Smith added: "It's great to see Saltire Thistle going from strength to strength, winning the GFSN's top league and strongly supporting LGBT sport in Scotland. We congratulate them in their progress up the leagues and wish them well in the future."
In May Saltire Thistle will be marking the 25th Anniversary of the GFSN by participating in the annual GFSN Get together with over 20 other LGBT friendly teams from around the UK. The weekend will also feature a one-off Home Nations Tournament, with members of different clubs representing their country to see who will be crowned champions.