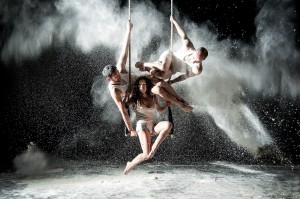 Puffball is a new production devised and performed by a new company of circus artists and a young LGBTQ cast (lesbian, gay, bisexual, transgender or questioning) in collaboration with renowned artist Mark Storor.
The show comes to Cast on Thursday 1st and Friday 2nd May, directly following its world premiere performances in London as part of the Roundhouse's CircusFest.
The culmination of a major year-long project working with young people identifying as LGBTQ from Doncaster, Cardiff, Manchester and London; Puffball explores identity through physical performance and storytelling.
Inspired by personal stories –exhilarating, heart-breaking, devastating and joyful – the show fusing storytelling with beautiful circus performances, Puffball is set to a live score by award-winning composer Jules Maxwell.
Mark Storor came to Cast in August last year and worked alongside the Doncaster Pride Committee members, devising the piece which features a trampoline and a giant bowl of jelly.
Graham Whitehead, Head of Marketing at Cast says: "Puffball will be a beautiful performance that will leave audiences in awe of the skill of the circus performers on the stage. We can guarantee you will have never seen a show quite like this before! Cast is delighted to be working in partnership with Roundhouse and Royal Exchange and Contact Manchester to bring this vital piece of work to the stage, one our first major partnerships as a new venue in Yorkshire."
Trevor Jones, Doncaster Pride committee member comments: "When Cast contacted Doncaster Pride about Puffball I never thought it would turn out to be the most amazing week of my life! I can't wait to see the production and urge everyone to catch the show, celebrating being you, even though I must be the oldest Puffballer at 60."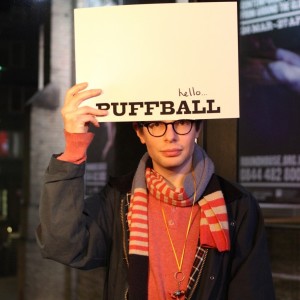 The project has also received high profile support from celebrities including Stephen Fry, Lucy Spraggan, Simon Amstell and Sophie Ward.
Actress Sophie Ward says: "The Puffball story is an important piece of LGBTQ history that documents the stories of young people and reaches out to help improve the lives of future generations."
The project builds on the success of The Fat Girl Gets a Haircut and Other Stories the Roundhouse's ground-breaking production created in collaboration with Mark Storor and a cast of 12-17 year-olds that met with widespread critical acclaim in the national press.
Tickets for Puffball are on sale on 01302 303 959