Jonathan Dahl – Feeling a little morose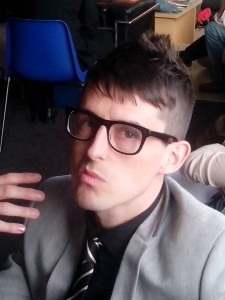 "The Reason I'm feeling a little morose Amanda is that I stopped believing in God this morning and it'll take a little time to get over it".
Those were my lines from the first time Jonathan Dahl took to the Stage playing downtrodden vicar Bertram Thomson in an amateur production by Michael Birch called 'It Shouldn't Happen to a Dog'.
This was an unpaid role where I gained the part by attending drama workshops at the West Yorkshire Playhouse, but the production was poor and there was also no packed auditorium, which left me a little disheartened. However, this was just the starting block. I knew over time I would get to perform to a bigger crowd, and there were definitely much bigger things to come than playing a depressed man of the cloth.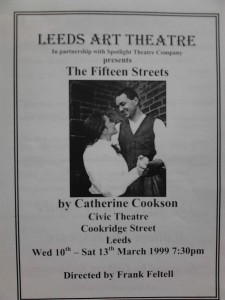 Most of my teenage/young adult years were spent treading the boards in Amateur Theatre. I have been in shows from Bronte's 'Wuthering Heights', Ben Elton's 'Bums on Seats' and Catherine Cookson's 'The Fifteen Streets'. All these stage productions I have been involved in were something I achieved on my own back without an agent and being an eager participant in various drama classes.
In 1995 I got my first opportunity to appear on screen rather than stage. A certain rural serial drama used my school for filming. I managed to wangle time from classes to be a regular 'Walk-On' whilst the crew were filming in our corridors. It felt really comforting chatting to the cast between takes as they were so friendly and welcoming. Also mixing with the TV cast and crew I realised that I belonged on the box. I loved it when I'd see myself on screen as I mingled or just past by in a scene. Even though my appearances were few and far between, this exposure to a TV way of life affected me in a huge way… and not just that I insisted we got a bigger sized screen TV at home so I could watch myself 'starring' as I walked into view, or the back of my head was shown. No. I wanted to do more than wait backstage in a tiny chilly dressing room before stepping out into that spotlight and delivering my un-paid lines.
My mind was working overtime. This, I was sure, was the way to go. On camera I felt that I could give a more believable performance without projecting my voice too much. I considered it much easier delivering dialogue to a camera than trying to reach beyond row 14 of an auditorium. There were other pluses. With television you are also much more instantly recognized and the pay is amazing. For few hours you can earn a tidy sum whereas in theatre it's less pay and long rehearsals.
On leaving school my 'walk-on' experience gave me the courage to seek an agent in the hope of finding more TV related work. The question was how do I go about even starting to find a representative?
Aside from the acting, which came naturally, I had no idea about where to begin with agents. My mother suggested looking in the Yellow Pages. I was a bit sceptical that I was not going to find an acting rep in the telephone directory, though I was proven wrong as I did manage to come across one and made that all important call (one up to mum).
I was with my first agent for several years before moving onto pastures new. The reason was I wanted to do more than 'walk-on' work and this was all she catered for, so we parted ways. I knew my career wouldn't progress to the next chapter if I stuck with her.
With thanks to a fellow actor I found out about Equity and now that I had a substantial amount of work under my belt I gained my Equity Card (proof that I'd become a professional actor, as without it I wouldn't be taken seriously in the industry). I thought this was it, the skies the limit and I managed to find another agent but alas, was only with them for a brief period due to still only being forwarded for background work.
I was once again on the lookout for a new agent. One day as I was browsing the internet I came across an advertisement seeking actors to join a new agency. Would it be third time lucky?
I decided to look into this, and ended up going to Birmingham for a meeting the new agency had set up. This consisted of six other people, the so-called representative, and me. Once the meeting was adjourned three of the other candidates and myself were asked to remain behind. This is where I was asked to pay a subscription fee upfront to join the books. Having not much experience of how agents really work, and being ambitious for possible new opportunities, I signed up. I was unaware you should never pay a joining fee to be represented, as a genuine agent will only ever take a percentage of your earnings once they have found you work.
Pretty soon it became apparent that it was a con. No extra offers of jobs, no starring role in any kind of production. Nothing, zilch and I was absolutely devastated by my naivety. After forking out almost a hundred quid only to have my hopes dashed I was beginning to wonder if there was much point in continuing in a business I now felt was just out to fleece me. I felt so humiliated and embarrassed by the fact I'd allowed this to happen to me. Having paid someone to go and screw me in this manner was not what I had in mind.
I mean what was I thinking? Then all the negativity kicked in. I felt like a complete failure, just exactly why was this happening and why me? What had I done to deserve this bad luck, all I wanted was that break?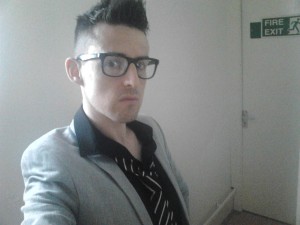 Just when I thought things couldn't get any worse… they did. I spent a long time grieving over my chosen career. I now didn't want anything to do with the profession that I saw was full of conmen and nasty opportunist praying on the vulnerable. My internal anger could have been measured on the Richter scale but then fate came along to show me how much worse things could be.
I was involved in a motor accident which left me in mortal peril for a vast period of time. I was badly injured and getting about was a huge problem and I became very depressed and something of a recluse. I was lost in a timewarp of self-pity, anger, frustration and I didn't know how to get out of it.
I spent every day and night doing very little and there was only so much of watching TV that I could stomach. I couldn't digest the fact that I was sat at home watching trashy day-time telly and evening repeats, than actually getting out there and making something of myself. Every time I switched on a little mocking voice inside my head was saying "Nanaa nana… that could be you".
That contemptuous little voice must have been put there for a reason because during this time sitting out of the spotlight I began to get a more positive voice niggling right back: "You are a performer, you perform, get out there, show them what you are made of, what you can do. Don't let anyone or anything take the limelight away from you".
I craved being on screen and I wanted to feel that buzz of being in front of the camera once more. What could I do, I was housebound due to this injury and all I wanted was to go back to what I called home. So after a very long recovery and much deliberation I eventually got myself back out there to do what I was put on this earth to do – PERFORM!
I returned to show business after meeting my current agent at a social event, which luckily I had seen advertised on Facebook.
This was a big wake up call for me and I realised that being on a film set was what was missing from my life.
A chance had arisen to get back out there and show the world that Jonathan Dahl was back for good, so I grabbed this opportunity with both hands. After having to audition twice, due to lacking in confidence on my first attempt to prove myself, I was taken on and given a second chance to show just what I was made of. I gave the performance of my life. There was no stopping me.
Although I was adamant to step up from being in the background, I soon found myself getting new gigs starting with occasional 'walk-on' work: This is regarded by some in the industry as a hazard if you want to be taken seriously for major roles.
The truth is actually more likely to be about being in the right place at the right time and if your face fits.
TV stars such as the late Bill Tarmey, aka Corrie's Jack Duckworth, began as a supporting artiste before being asked to deliver a few lines and it miraculously led to a thirty plus year career for him on the cobbles.
Over the years I've had walk-on parts in Emmerdale, Coronation Street, A Touch Of Frost, Heartbeat, and several other television shows. I was also in one of those Safestlye UK commercials (you know the one, yes you know the one with that guy Reg from Corrie) and all these parts helped me pay the rent.
In the next instalment I'm going to be talking about why it is crucial to always obey the Director and the adrenaline rush I got playing it for real on camera for the first time, so join me soon.
Check out my acting Showreel on Youtube here.