'God Loves Queers' at Bollox's Non-Birthday Party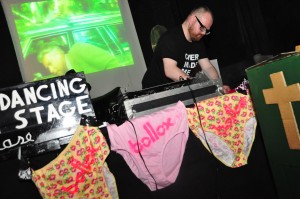 by Adam Lowe
The folks behind Bollox don't celebrate birthday parties – they're much too old for that! But this April, the sixth year since Bollox's unholy creation, the organisers have decided to thank the Lord for their blessings. And quite rightly too.
The impact of Bollox's role on North West culture is visible in the region's ever growing trans community, its burgeoning alternative queer club scene and its fostering of an 'all-in-this-together' (not in the way Cameron says it) outsider community previously absent from the city since the 80s.
Originally housed at the infamous Legends, the building that once housed Bollox was demolished to make way for a glitzy city centre hotel – as so many spaces integral to queer Manchester's vibrant history have been over the years. Bollox is now holed up in the Star and Garter, behind Piccadilly Train Station, and the visual effect is a of a post-apocalyptic rave in a pub-cum-fallout shelter. Atmosphere-wise, it's more like a house party – with the DJs throwing in an anything-goes blend of tunes from across the aural continuum.
Bollox's 'God Loves Queers' party this Friday 18th April is all about the people who make the queer scene great: the fags, the dykes, the drags, the trans people, the allies, the dancers and all the others.
Playing the birthday playlist will be guest DJs Trash-O-Rama plus, of course, residents Rod Connolly and Zoe McVeigh. But there's a third, rather interesting addition to the DJ lineup: you, the public. Me and Everyone You Know will run the Bollox Mobile Disco room, where clubbers can plug their phones or iPods into an amp to show off their eclectic music tastes for up to 30 minutes each.
Bollox will also be ramping up the transgressive (or is that trans-aggressive?) energy with a satirical Westboro Baptist Church sign-making booth. Here the punters will be able to create protest placards in the style of the controversial, queer-hating WBC – to celebrate the Gaylord's love for all His children and to mark the passing of hate preacher Reverend Fred Phelps.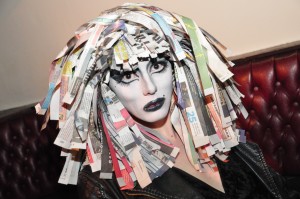 Gothic-p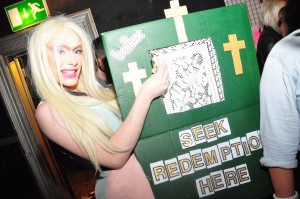 unk circus queens Liquorice Black and Violet Blonde will be entertaining for free drinks on the night – and bringing their own bold interpretations of drag to the dancefloor. Other highlights include free art from Artist in Residence Miss
Rachel Field, free Bollox scratch 'n' sniff pants, free Bollox merchandise and free queer air for your own personal liberation.
Doors open at 11pm and kickout isn't until late – or until Liquorice and Violet pass out. Entry is £5 before midnight and £6 after.
Bollox was the Winner of City Life's Best Club in Manchester Award 2012.
Star & Garter, Fairfield Street, Manchester / Friday 18th April
Images courtesy of Drew Wilby Photographics