The Irrepressibles – Nude : Viscera EP and UK Tour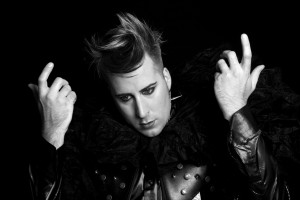 Released last year The Irrepressibles sophomore homo-iconic album 'Nude' received much praise for their brave and honest writings tackling gay rights and its unique 'electro-symphonic' sound.
The art pop orchestra are known for their contributions worldwide to human rights they even made the bold move last year, performing an open free concert Gorky Park in Moscow in front of 5,000 people and presenting music videos from the Nude trilogy even through the technical team tried to stop them. Their recent ground breaking pro-gay love video made up from submissions from lovers internationally called 'Two Men In Love' resulted in an inequitable over 18 censorship on Youtube despite the lack of any sexual content. 'I made this video because of kids out there kill themselves being gay' "There's nothing sexual in the video, just kisses between lovers' says openly gay band leader and composer Jamie. https://www.youtube.com/watch?v=QImH6snSN-g
Not yet ready to relinquish the message of Nude The Irrepressibles are expanding on the album through an EP trilogy where three new and different sonic worlds exist. The first tranche Nude: Landscapes mores from intense minimalism to symphonic landscapes where the orchestration is stripped back with piano, guitar, violin and cello which expands with loop pedals in live performance.
Succeeding is Nude: Viscera which conjures a physical and sexually charged world. It brings together influences from new wave, grunge and exotica into a darkly sensual and at times playfully chaotic mix. Initial comparisons have been made to the later works of Jeff Buckley, Lou Reed, Yma Sumac and material from PJ Harvey. This second EP will be toured throughout Spring 2014 in darker rock venues that are intrinsic to the performances and how the new music will take form.
The finale Nude :Forbidden will shift into new electronic territory and includes remixes from iamiamwhoami and Mancunian duo Ghosting Seaon plus new tracks Forbidden and Edge of Now which the band will release new music videos for in the coming weeks. The final EP will be released together with the full trilogy as one package digitally and physically internationally on the 24th March.
The Irrepressibles debuted Mirror Mirror in 2010 which featured the seminal track 'In This Shirt' it received much critical acclaim internationally and is now considered a must-have in the baroque pop genre. They have collaborated or have been remixed by Royksopp. Iamamiwhoami, Hercules and Love Affair, and even created music for Danish company Hotel Pro Forma's touring, and now award winning opera, War Sum Up which toured Europe and recently had its US premiere at the Brooklyn Academy of Music in NYC in November 2013.
UK Live Dates
26th March, London – Village Underground
29th March, Nottingham – Stealth Nightclub
31st March, Manchester – Deaf Institute
3rd April, Oxford – The Cellar Bar
4th April, Stockton-On-Tees – ARC
5th April, Coventry – Tin Angel Music and Arts Ti
6th April, Bristol – The Fleece