QBoy – Music Makes Us Dance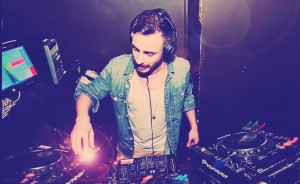 Celebrating 10 years since his debut release 'Even The Women Like Him', QBoy is back with a brand new single, style and attitude. The music video to his lead single, the catchy synth-filled 'Music Makes Us Dance' is out on 25th March on VEVO.
QBoy made history by being the first gay hip-hop artist in the UK and helped lead, create and shape an entire sub-genre (homo-hop) in it's infancy, from DJ-ing and promoting the first gay hip-hop parties in the UK to performing shows all over the globe, even supporting Boy George LIVE in London at Camden's Koko and sharing the stage with rap legends Salt-N-Pepa at South West 4 Festival. From The Guardian, Independent, VICE, Dazed&Confused and i:D to Channel 4 and BBC shows, everyone reacted to QBoy and his perceived oxymoron; how can there be a gay rapper? Fast-forward 10 years and the world has come around to the idea. The likes of Le1f, Mykki Blanco and Zebra Katz are now enjoying the fruits from the homo-hop tree QBoy helped to plant, authenticating QBoy as a true originator and trailblazer. With 3 more music videos planned for this year, an E.P. and 2 tours (US and European) being pieced together at this time, QBoy is ready to deliver his new project, showcasing his best and what he calls his most 'polished' material to date. As a DJ, QBoy also currently runs several successful gay R&B and hip-hop parties in both London and Madrid, including the already cult hit 'R & She', 'Club YO!', and 'Put It In Your Mouth' plus he is a regular DJ at London's 'DISH' (East Bloc) and 'Dirrty' (Soho). He also organises 'GULLY LIVE' the only showcase platform for LGBT urban music in the UK, which has so far featured US artists Cakes Da Killa and AB Soto and has new dates planned later this year.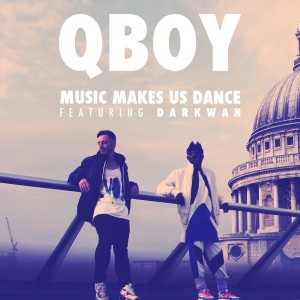 The video for 'Music Makes Us Dance' was shot in and around Shoreditch and Dalston, London where QBoy is based professionally. The track speaks of unity, meditation and the "coming together" through music and dance – which in the present political climate of countries like Russia and Uganda moving seemingly backwards with equal rights for LGBT people, is sadly still relevant. 13 years on since QBoy first arrived and while much has changed for the better, so much is still left to do and QBoy is fully aware and concerned for the people who are less fortunate elsewhere. The song's catchy hook is sung by club kid fashionista Darkwah, who has just launched his own fashion brand DARKWAH following his success with fashion label Staple For The Cool Kids at London Fashion Week last year.
VIDEO LINK: https://youtu.be/7hgmwTe4CJY                            www.qboymusic.com