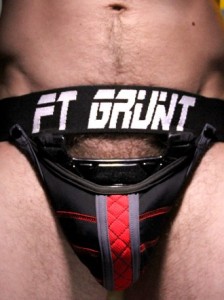 Back in the Middle Ages, the codpiece (cod meaning scrotum) became the fashion accessory that every man of means just had to have. Roll forward several hundred years and the jock-strap was what every sportsman needed, designed for supporting the male genitalia during sports or other vigorous physical activity. But now… things have taken another step forward.
Rapidly becoming the most popular form of jock-strap in the USA, Fort Grunt has taken the desi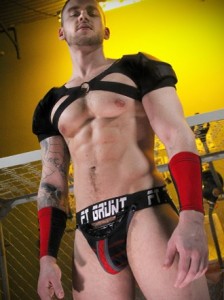 gn and added… armour.
This ain't no soft and yielding fabric, this is for the guy who means business and is determined to look the part. There's a body-hugging cockring that fits your anatomy like a second skin. The armour jock enhances your package and grabs the attention… snap off the pouch and you're ready for action.
This year's Pride events are going to have a new look because this… is the hottest, must have, item around because with the pouch snapped into place…Jock Armour looks as hot as HELL.
Your cock is covered…but you get a glimpse of the ARMOUR underneath. Your assets are supported by the ARMOUR, and pushed OUT…so your junk looks BIG 'n' JUICY as it rests against the spandex/nylon fabric.
But, when it's time to PLAY… the pouch is held in place by 3 snaps, so you shed it QUICK. While your meat is framed with the ARMOUR… you are still rockin' the jock.
Hot ? You bet.
Available in orange, black, red and blue. Small is for waist sizes 28-30 inches. Medium is for waist sizes 31-33 inches. Large is for waist sizes 34-36 inches. X-Large is for waist sizes 37-39 inches.