Happy Fifth Birthday, Grindr!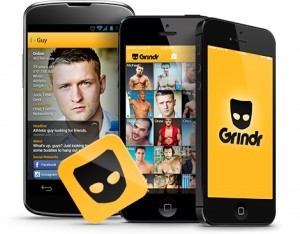 To celebrate its fifth birthday, Grindr  has announced that the pioneering location-based meet-up app has more than five million active monthly users and their daily chat messages have topped 38 million. Grindr and Grindr Xtra have taken the world by storm over the past five years, having experienced explosive growth by engaging with iPhone, iPad, iPod touch, Android and BlackBerry users in 192 countries. In addition, the number of Grindr photos sent daily has jumped to over 3.1 million and the app has been downloaded more than 10 million times.
The gay community has undergone huge changes in the five years since Grindr's inception. Politicians and athletes are coming out in a more tolerant environment and marriage rights for gay couples are gaining more and more traction. In tandem with these changes, Grindr for Equality launched two years ago and has helped push the dial towards equal rights by leveraging Grindr's user base to raise awareness around anti-gay legislation, HIV/AIDS research and marriage equality.
"The progress in gay rights over the past five years has been impressive," says Joel Simkhai, founder and CEO of Grindr. "Many places around the world have made strides towards equality and are now safer for our community. When we realized Grindr's reach, we used that advantage to help speed along the change. There is still plenty more to be done, and we try to do our part with Grindr for Equality initiatives."
To commemorate the five year anniversary, Grindr surveyed* its massive user base to learn about the habits and trends among the guys that use the app. Users got personal and shared with Grindr their meet-up history, favorite feature on a guy, and more. Almost half of Grindr guys identify as versatile in the bedroom, which is good news for the almost 30 percent of users looking for Mr. Right Now. 58 percent of users have met six or more guys in person from the app and 52 percent of them have met with at least five guys in the past 30 days. When looking to meet someone, the most important feature to users was a Grindr guy's smile – followed closely by what they're packing in their pants.
Additional key survey findings include:
·         51 percent of Grindr users are in their twenties.
·         The most popular Grindr Tribes are Clean-cut (45%), Geek (31%) and Twink (29%).
·         46 percent of French users identify as Discreet – almost double the number in the U.S., UK, Canada and Australia.
·         Nearly 80 percent of Grindr users are single and out of those, 29 percent are looking for relationships.
·         Almost half of Grindr users over 40 years old are looking for 'right now.'
·         When asked what their best feature was, 28 percent of respondents said their eyes and 28 percent said their smile.
·         Nearly three quarters of Grindr guys prefer their men with facial hair.
Five years ago, location-based apps like Grindr didn't exist at all and now Grindr has become part of the fabric of popular and gay culture and is regularly discussed in television shows, such as: 'Girls,' 'Looking,' 'Glee,' 'Saturday Night Live,' 'Watch What Happens Live with Andy Cohen' and 'Chelsea Lately.' More than one million Grindr users log on to the app every day, with an average of nine times per day. Up to 300,000 users are logged onto Grindr at any given moment.
*The survey was conducted on March 17, 2014 with 9,000+ U.S., United Kingdom, Canada, France and Australia-based respondents.