Gay Marriage – It's up to you by Les Lea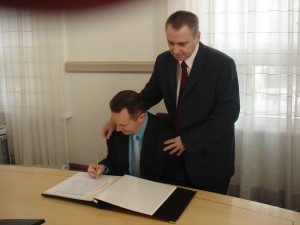 So, the 29th March is rapidly approaching and we gays will be allowed to proclaim our love by getting married… just like anyone else can.
Actually. Wait a minute. Erm, sorry but there are some restrictions. Well there had to be really didn't there? After all, Equality is a grand concept but we don't want to go the whole hog and give it to just anybody now do we? No, the religious of us who can't stand the thought of same-sex love must have a say in our lives. Those who are simply bigoted must have the right to have a say in our lives and the people who don't understand anything about anything must also have the right to object to… well… everyone and everything… but they're not sure why.
I'm not a religious person so what they want and say has no impact on me at all. Not dissimilar to the impact my marriage to a man would impact on their lives. They may be offended but that is their right… and mine.
So, as I say, the legal day is fast approaching so what are you going to do?
Broadcaster Sandi Toksvig will symbolically renew her vows to her partner at a mass gay event in London called I Do To Equal Marriage.  I'm sure many in civil-partnerships will want to do the same, although legally they are going to have to wait a few months for the government to ratify how the change from civil-partnership to marriage will take place. Personally, I am already married. That civil ceremony my partner and I entered into seven years ago meant, to all intents and purposes that he is now officially, my ball and chain (for legal reasons I have to add) …and I couldn't be happier.
I think the symbolism of gays officially and legally being able to marry is far more important than the actual act. To be part of an enlightened country that doesn't treat its gay population with contempt is worth celebrating. To uphold human rights to love equally is a definite positive and even more so when so much of the world has suddenly (and to me suspiciously) taken a backward stance toward acceptance of homosexuality.
I like the idea of mass marriage, although I do worry that sometimes it's more a case of getting caught up in the euphoria than love but, who am I to cast doubts? Love is a concept that many people struggle with and has defeated all the great thinkers throughout time.
So, enjoy whatever you are going to do. Kiss and hug, smile and celebrate… and just be thankful you don't live in Nigeria.