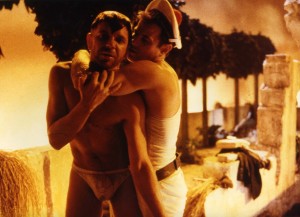 Adapted from Jean Genet's infamous, ground-breaking novel, Querelle of Brest, the final film of celebrated director Rainer Werner Fassbinder's career is a striking, surreal and utterly unique tale of sex and murder that has gone on to become a cult classic.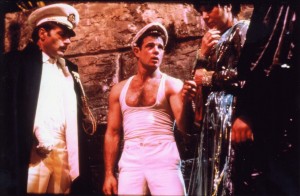 Querelle (Brad Davis) is a sailor on shore leave in the French port of Brest. Following an argument, in which he stabs and kills his drug-smuggling partner, he seeks shelter in a nearby brothel. There he befriends the predatory madam, Lysiane (Jeanne Moreau), who leads him into his first homosexual encounter. Here, you can play dice with Nono, Lysiane's husband : if you win, you are allowed to make love with Lysiane, if you lose, you have to make love with Nono… Querelle loses on purpose…
From then on Querelle embarks upon a voyage of highly charged and sometimes violent sexual self-discovery that will transform him forever from the man he once was…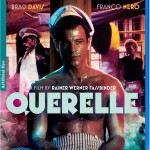 When the film was first released it created controversy and achieved cult status because of the style and subject matter… not forgetting the large amounts of homo-sex. Genet's work was always going to be difficult to bring to the big screen but Fassbinder's unique approach, and the casting of such a vulnerable star as Davis, was genius. Both men had tragic ends to their real lives. Director Fassbinder was in the process of editing Querelle when he died of a drug overdose in June 1982. Brad Davis, who had been diagnosed in 1985 with AIDS, died in 1991 from an 'assisted suicide' when the pain became too unbearable for him.
Released 12th March – DVD & BluRay – Curzon Film World