Turing receives royal pardon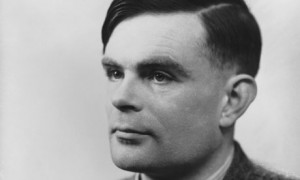 "Not before time," some say, as the man who changed the course of WWII, is at last given the respect and the justice he deserves.
Back in 1952, the mathematician who found a way to decipher the German Enigma Code, thus shortening the war considerable and thereby saving thousands of lives, was convicted over a homosexual act after admitting to a sexual relationship with a man.  In 1954, after undergoing  experimental chemical castration 'treatment' as a cure he died of cyanide poisoning, he was 41 years old.
The fact that his homosexuality had over taken in importance the work he did during the war has, for a long time, been seen as unjust and there has been many campaigns to clear this brilliant man's name.
It has taken almost 60 years since his death for that wrong to be righted as the Queen, under her Royal Prerogative of Mercy, has granted a posthumous royal pardon.
The injustice Dr Alan Turing suffered as a result of his homosexuality has long been a cause that, over the years, the LGBT community has found common ground to support and campaign on. The misguided treatment and his eventual early death deprived the world of a brilliant scientist and mathematician. Bletchley Park, the secret decoding centre, where Turing worked during WWII, and where he and his team created the 'bombe' that was the means of cracking Germany's coded message,s is now a museum to the work he and his co-workers did.
Iain Standen, chief executive of the Bletchley Park Trust, said Turing was "a visionary mathematician and genius whose work contributed enormously both to the outcome of the war and the computer age".
David Cameron described Turing as a "remarkable man". The prime minister added: "His actions saved countless lives. He also left a remarkable national legacy through his substantial scientific achievements, often being referred to as the father of modern computing."