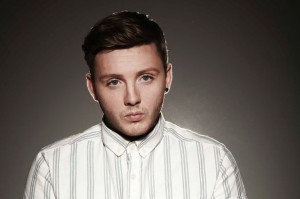 Winner of last year's X Factor James Arthur has got himself embroiled in a war of words on twitter because of a homophobic comment he used while having a go at a rap artist- he called him queer.
Now fellow, former X Factor, and out gay artist, Lucy Spraggan has tweeted her annoyance at Arthur's lack of understanding of how the word can cause offence. In turn his twitter comment said: "Lucy what are you playing at having digs at me. Is it coz you're a gay rights activist you had to say something as extreme as 'people kill themselves every day over words like queer' are you for real? You not think you're being a bit over the top? Do you want attention or something? Sorry I didnt (sic) tweet you're (sic) album link I've been busy buy you didn't need to be so two faced."
You can see where this little spat is going to end up. Twitter seems to be a voice, for good or bad, for people without a thought in their head but a head full of opinions… and who think their opinion counts.
We've heard about the 'trolls'; those who use twitter and social media deliberately to upset people because they can… and no one knows who they are. They live in an anonymous cocoon , sending out invective and nastiness to give some meaning, no matter how awful, to their putrid little lives.  I'm glad to read that some of these creeps are being tracked down and revealed to be a bunch of cowards who when confronted piss themselves. More power to those who lead that particular fight.
Meanwhile, new 'talent' on Made In Chelsea, Miffy, has been revealed as sending and retweeting anti gay comments to all who has access to his account. According to Pink News https://www.pinknews.co.uk/2013/10/15/new-made-in-chelsea-star-miffy-accused-of-homophobic-tweets/   – A screen grab of the alleged tweet was posted online by another twitter user. It read "It's Adam and Eve, not Adam and Steve #gaymarriagef*ckoff". The same screen grab also showed that Miffy had retweeted a homophobic comment by another user during X Factor last year in relation to openly gay contestant Rylan Clark leaving the show: "Bye rylan you q**er t***".
While a PR company will do its best to cover the tracks of those in the limelight, for others there is no hiding place.  And while Twitter has been seen to be a useful tool time and time again, it does have its draw backs. For the famous, don't forget, fame relies on people caring, when they stop caring, you disappear. For everyone else be aware that if you write it, someone will see it, so be prepared for others to violently disagree with your opinion or use of terminology and possibly find yourself as the outcast.