Barcelona Circuit Party 2013 by Chris Amos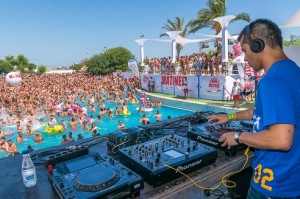 Photos: ChrisGeary.com
 As the UK basked in a sunny summer for once, Barcelona once again drew the young and beautiful to their eye-candy festivities hosting the mammoth ten day Circuit Festival, one of the world's biggest international gay and lesbian events.
 Firmly established in August each year, gay clubbing supremos Matinée Group organised Europe's biggest gay dance festival for the sixth spectacular year.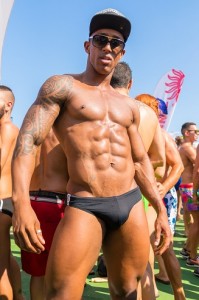 Twenty-two massive parties featuring the world's biggest gay club brands including Beyond, We Party, Supermartxe, Megawoof, La Leche and The Week and the hottest guys from across the world attending.
The 2013 edition saw more than 80,000 people from 40 different nationalities, there were so many hotties from everywhere but I seemed to meet lots of Russians, Australians, Israelis, Americans and so many Brazilians, who have officially taken over Europe now.
All the venues are out of town, so buses are put on. These all leave from Placa de Catalunya. The fun always begins with a beauty parade queueing here and €5 gets a return bus ticket.
If you are thinking of coming next year, look for accommodation close to Placa de Catalunya so you have easy access to the party buses. The closer the better if you want to lessen the walk of shame at the end of the night – or middle of the day sometimes! If you can afford to splash out then you may as well book into the very gay Axel Hotel, which also host parties every night on their pool terrace.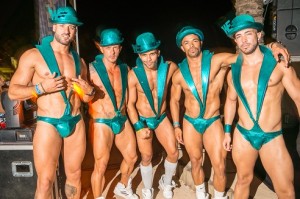 It is not all about the parties of course. Barcelona's beaches, 4.2 kilometers long and just a few minutes from the city, are a unique case in Europe of the integration of a large metropolis with the sea. Barceloneta used to be the most famous gay beach but has lost its crown to Mar Bella, the nudist beach, as the busiest beach. San Sebastian at the other end is popular too, nestled near the W Hotel.
The beaches were just as busy as the clubs. Get a good pair of sunglasses and be prepared to perv on plenty of eye candy. You can order food and drinks including caipirinhas straight from your beach towel. Bonus.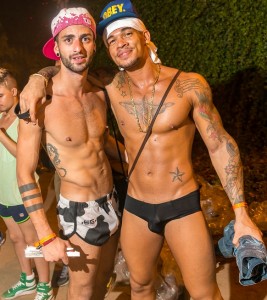 Hats off to the Matinee Group who organised every event superbly. From the cute bar staff, efficient transport system, sexy dancers, free water handed out at the end of each party, strict security (these guys even feel your crutch for G bottles), incredible sound systems, DJ line-up, lighting… it is really a benchmark in how to organise gay clubbing experiences. A big thank-you to all the Matinee team for such an incredible event and see you in 2014, next time I am bringing extra mates.
No wonder the Circuit Party grows bigger every year!