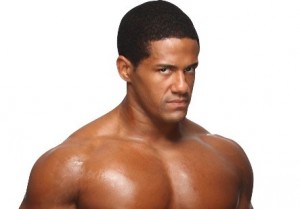 One of the most homoerotic sports in the world now has its first openly gay combatant.
World Wrestling Entertainment (or WWE as we know it better) has its first out and proud Superstar when, in an interview with TMZ in America, 29 year-old Darren Young was asked if there is a place for gay stars in the sport.

He said: "Absolutely, absolutely! Look at me. I'm a WWE Superstar, and to be honest with you I'm gay. And I'm happy, very happy."
On being commended by the interviewer for being brave and coming out, he said: "I don't think it matters, does it matter? Does it matter to you? Does it change what you think about me?
"I guess if you want to call it coming out. I really don't know what to say it is, but I'm just letting you know that I'm happy with who I am, I'm comfortable with myself. And I'm happy to be living the dream. I'm in LA for SummerSlam."
The wrestling hunk continued to say that he was not concerned about the reaction to this revelation. "You know, to be honest with you, I'm happy with myself.
"Some people might not like it, some people will like it, but I'm here to please myself, I'm here to be happy. It's very important to be happy with myself."
According to 'E' online (http://uk.eonline.com/news/449153/wwe-superstar-darren-young current WWE Champion John Cena didn't seem too surprised by Young's coming out.
"That's a very bold move for him. And congratulations for him for actually finally doing it," Cena said. "For us, it's entertainment…and if you're entertaining, you shouldn't be judged by race, creed, colour or sexuality…as long as you're entertaining."
The WWE echoed Cena's sentiment, saying in a statement: "WWE is proud of Darren Young for being open about his sexuality, and we will continue to support him as a WWE Superstar.
Photo: WWE