London protest against LGBT murders in Jamaica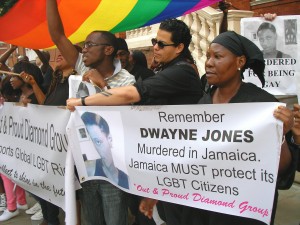 Thirty protesters picketed the Jamaican High Commission in London yesterday (28 August) in protest against the brutal murders of 16 year old cross-dresser Dwayne Jones and a 41-year old gay man, Dean Moriah.
They demanded justice for both men, and urged tougher Jamaican government action against homophobic and transphobic hate crime.
 The protest was organised by Out & Proud African LGBTI and Justice for Dwayne Jones, with the support of the Peter Tatchell Foundation.
 "We demand justice for Dwayne and Dean. Jamaican authorities need to send an unequivocal message that there will be zero tolerance of violence against lesbian, gay, bisexual and transgender people. Additionally, the police should prosecute the killers and witnesses should be offered anonymity and police protection," said Edwin Sesange, Co-founder and Director, Out & Proud African LGBTI.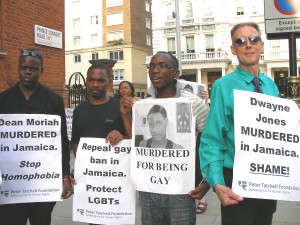 "Like Senator Golding, Prime Minister Portia Simpson-Miller and other government officials and religious leaders must publicly condemn the killings. We call on them to end the criminalisation of homosexuality and to protect the human rights of all Jamaicans.
 "We urge the Commonwealth to condemn homophobia in Jamaica and ask the Jamaican government to take action to prevent the persecution LGBT people," said Sesange.
 "The Jamaican Prime Minister, Justice Minister, Education Minister and police chief must work together to educate the public about LGBT issues, promote tolerance, prosecute homophobic hate crime and ensure that LGBT Jamaicans are able to live in peace, without fear," said Peter Tatchell, Director of the human rights advocacy organisation the Peter Tatchell Foundation. He attended and spoke at the Wednesday protest.
"Jamaica's anti-sodomy law is a violation of the country's commitment to equal rights and non-discrimination. It menaces law-abiding LGBT citizens with arrest and imprisonment, as well as giving homophobic attitudes the underpinning of law and official legitimacy. It also discourages LGBT people from coming forward for HIV education and testing, which is contributing to the spread of HIV and placing a burden on the Jamaican health service. Repealing the ban on gay relationships is in the wider public interest," said Mr Tatchell.
Dwayne Jones was brutally murdered in Jamaica on 22 July 2013. He was dressed as a woman. His sexuality and gender identity are unconfirmed.
Relentlessly teased at school, at 14 Dwayne was kicked out of home by a father who joined in with neighbours homophobic jeers as Dwayne left. A few weeks ago, aged 16, Dwayne was beaten, stabbed, shot and deliberately run over by a car as he tried escape after being attacked at a party where he had dressed in women's clothing. According to reports, someone at the party identified Dwayne as 'male' and then a mob chased and murdered him. Police have yet to make a single arrest.
 READ MORE about Dwayne Jone's killing: http://bit.ly/19BHB0L
 READ about the murder of Dean Moriah: http://bit.ly/19XjoWe