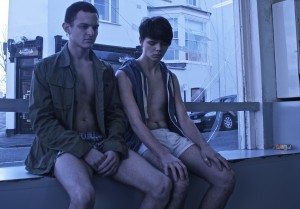 Set in the economically depressed England of today, Cal is a startling sequel to the hit 2009 film, Shank. 20-year-old Cal returns from France to Britain after receiving news that his mother is ill. He finds his home city of Bristol facing hard times, with poverty and crime on the rise and rioting and looting rife. Now openly gay, Cal clashes with his homophobic mother and alcoholic, predatory aunt. Things soon turn around upon meeting a cute, young student who needs his help. However, Cal's act of kindness brings about a whole lot of trouble and a race against time to make peace with his mother and escape his home town. An intense, dark and intelligent feature bringing Cal's story bang up-to-date. We asked Tom Payne, who plays Cal's love interest, how he felt about joining a sequel to the hugely successful Shank?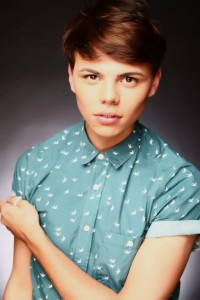 I was more excited than nervous. Shank was such a fantastic film and a huge success I could not wait to be a part of that. But also I had this pressure of meeting the standard that the Shank cast had set. It really was an amazing experience and everyone involved was great fun to work with – Christian Martin as both the creative force behind SHANK and CAL was an intimidating prospect but he's a sweetheart and a great director who knows what he wants and gets it!  Cal is definitely his best I think.
Can you tell us about your character?
 Jason, is victim of the economic crisis. He was a student whose funding had not arrived, His parent's house had been repossessed and had to try finding money ASAP to help fund his studies. During a time of desperation he had to reach for desperate measures and was introduced to Ivan, a pimp and drug dealer who influenced him dropping out of his studies and introduced him to drugs and the dark side of prostitution.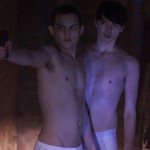 Do you relate to him?
In some ways yes, I fall for people easily just like Jason did for Cal – but I've never been paid for sex!  I struggled though when my student loan took a while to come in so I knew the pressures.
You have some really intense scenes, so how do you prepare for them and is it a nerve-racking experience for yourself and the actors you play against?
I prepare for them by putting myself in the character's position, then get my head in to the characters mindset.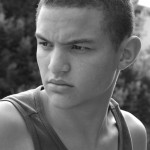 Sometimes it was too cold to worry about worrying and we just had to deliver our performances with all our heart and give it the best we could. A lot comes down to the director helping us with the performance – he's quite a task master Christian but gets what he wants in some trying circumstances!  The established and professional actors around us also helped me enormously with advice and coaching, Emily, Lucy and Daniel – amazing to work with and as for Wayne…phoaww dream come true!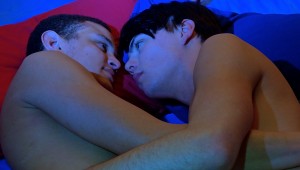 You seem at ease with your kit off…
I wish, I am quite body conscious but I don't think of it as being me with my clothes off. It was always Jason with his clothes off – Christian closed the set anyway for "that" scene and was very gentle with us!
Have you found yourself caught up in the gay marriage debate or any campaigning for equal rights?
I have yes, I one day hope to get married to the man I love! In my opinion LOVE IS LOVE and marriage is a commitment to spending your life with the person you LOVE and I don't understand how it has taken society so long to equalise this but when we were filming Christian talked to us about the various marches he'd been on years ago with Derek Jarman or London Gay Pride where he'd nearly been beaten up leaving the park afterwards and it really made me appreciate how far we've come but how far we still have to go when you look at Russia for example.
Do you have a favourite co-star or are there actors you'd kill to play with?
One name: Wentworth Miller.
Do you have a special someone in your life at the moment?
I do indeed, he is not out as gay so everything is a bit secret which is kind of exciting. He has promised he will come out once he finishes UNI which I am cool with.
If you weren't acting what else would you do?
I would love to get into the property business.
Are there any new projects involving yourself that you can tell us about?
Nothing as of yet, a potential presenting job but it's very early days…Seeking an agent at the moment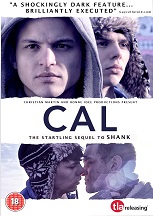 Do you have a fetish… if so… for what?
 I don't think so… If I do I have not found it yet – oh yeah I   do actually – it's called acting..lol
 CAL released 9th September by tla releasing