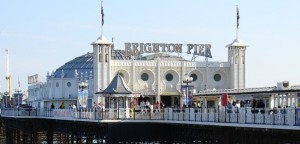 Bent's Adrian Gillan explores the sights and homo haunts of the UK's queerest seaside resort.
Randy royal raver Prince Regent escaped London back in the 1770s. Though straight – and no port or sailors here – he brought with him an air of flamboyance and devil-may-care that madeBrightona natural colony for rich queers in tow. The word got out and in time thousands flocked to a pleasant place by a Southern sea scarce an hour fromLondonbut seemingly a million miles away. Yet it is only with legality in recent decades that a visible gay quarter has emerged: around St James Street and Old Steine, stretching along the front from the Palace Pier into Kemptown, or "Camptown" as now truly is.
STAY
Stay at the excellent recently-refurbished 3-star seafront Amsterdam Hotel (11/12 Marine Parade; T: 01273 688825;). Most of its 25 large modern rooms boast large ensuite walk-in showers or wet rooms; all have king size beds; and all front rooms have stunning views over Brighton's famous pier, beach and promenade. Continental breakfast and wifi is inclusive. Its A-Bar is open till late; its restaurant serving a wide range of food! Near all scene and sights!
EAT
The Coach House (59 Middle Street; T: 01273 719000;) offers fresh, creative, modern cuisine amidst an informal and friendly yet still chic ambience. Try the scallops, then lamb, then chocolate pudding – all washed down with the finest wines! Lovely courtyard for summer!
SEE & DO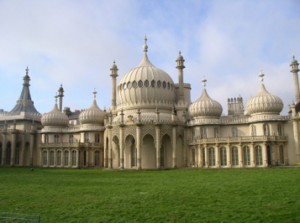 Free advance-bookable local volunteer greeters will happily give you your bearings in just two hours; or take a hop-on-off City Sightseeing Bus with running commentary. Browse the rambling cutsie cafés and shops in The Lanes quarter; gawp at the splendour of the Royal Pavilion; or take in a show or play at the ornate Dome, or 1807-built 950-capacity Theatre Royal (New Road; T: 08448 717650;). Then head down to the waterfront to enjoy the fish in the Sea Life aquarium; stroll the Pier with its funfair; take a voyage on either the little old Volks Electric Railway or brand new lofty Brighton Wheel; or just loll on the famous pebble beach. If in town for a bit longer, venture out into the glorious surrounding Sussex countryside.
SCENE
The Bulldog Tavern (31 St James Street; T 01273 696996), on St James Street itself, is the oldest gay venue in town still functioning. An ex-morgue, it's used to stiffs of all kinds and is rightly renowned for being a community hub. The Marine Tavern (13 Broad St; T: 01273 681284), just off on Broad Street, joins a crowd of other traditional Kemptown bars that generally cater for the older crowd. Or try the aforementioned A-Bar (@ Amsterdam, 11-12 Marine Parade; T: 01273 688825) on the seafront. To rev up, the Queen's Arms (7 George Street; T: 01273 696873) – over on George Street across St James' – is still one of the campest pubs in town with regular drag acts and karaoke, for a drunken cheery mob.
Bar Revenge (7 Marine Parade; T: 01273 606064) ups the style stakes with top views of pier and sea. Next door, Charles Street Bar (8 Marine Parade; T: 01273 624091 is the real style-meister hereabouts.
There are several devotedly-gay clubs in Brighton, each offering varied nightly flavours to suit all tastes. Legends (Basement @ 31-34 Marine Parade; T: 01273 624462) is a vast multi-million-pound-refurbished bar-club-hotel combo-complex, right on Brighton's seafront. Revenge (32 Old Steine;) is just about the biggest club in the south of England outside London – not that we want to compare ourselves with that place do we boys? – playing to a young, mainstream crowd across multi-floors; vying with a host of regular rival nights – not least Envy (above Charles Street Bar, 8 Marine Parade); Funky Fish (above New Madeira Hotel, 19-23 Marine Parade); Rebel (@ Digital, 187-193 King's Road Arches); and Wild Fruit (@ Honey Club, 214 King's Road Arches).
If you still need to let off steam – or get restless after Sunday lunch – TBS2 Sauna (86 Denmark Villas, Hove; 01273 723733) near Hove train station is a buzzing "male health" complex; or maybe try Brighton Sauna (75 Grand Parade; 01273 689966) up opposite the Pavillion. On a sunny day West Beach, between the two piers is the obvious place to bare nearly all. But more fun by far is the official, male-dominated nudist beach about a ten minute jaunt along the front towards the marina. And just back from said beach are the infamous Duke's Mound bushes. As ever, beware, not least at night.
Uniquely cosmopolitan amongst British seaside resorts, Brighton is a kind of miniLondon-on-sea, with none of yourBlackpooltat! And – amidst a quintessentially English backdrop of mile upon mile of aqua-pastel promenade paint and a ghostly, burnt-out West Pier moored offshore against the blinding sun – G-A-Y truly runs through its soul as through a sticky pink six inch stick of candy rock!