Having a Gay Old Time in Lanzarote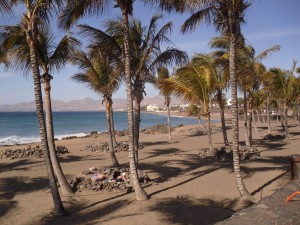 Lanzarote is the Canary Island to go to, with 10 miles of sunny beaches, warm weather all year round and a welcoming convivial atmosphere. It's pretty cheap to get there, with budget airlines such as jet2 offering cheap flights and hotels like the Sandos Papagayo beach resort. This resort is a four star marvel, with great reviews on TripAdvisor.
The Lanzarote Pride Festival is a popular time to visit Lanzarote, as people descend on the island for the gala and Fiesta. It has a great party atmosphere and is really welcoming and fun.
If you're up for a drink, there are gay bars in Puerto del Carmen, Playa Blanca and a drag bar called Lively Lady show bar at Costa Teguise. Punto in Puerto del Carmen has a disco on all night; Kloset is a newer bar on the Lanzarote queer scene and is a great addition.
If you're more of a lay about on the beach sort, then Lanzarote is definitely the place to be. Miles of beautiful sand beaches, in fact, nearly 100 beaches in total. Make sure you pick one with a lifeguard, and not just so you can perv at him. Follow his instruction and swim in the appropriate areas.
If you want windsurfing, try Famara as it gets the best waves. Papagayo is in a nature reserve and so is beautiful to get to and stay at. There are no beach facilities so you'll have to take sun cream and water, and hope that you find someone pretty to rub it on your back for you. These beaches are considered the 'best' at Lanzarote, but the lack of facilities keep some of the riff raff away. There is a €3 entry fee at the top of the dirt road down to the beaches. Nudity is acceptable and cruising quite common.
If you'd rather watch the world go by, try the beach at Playa Blanca, as it is in the center of town. There's a decent Tapas bar here at the harbor and ferry booking office. If you want the best food Lanzarote has to offer, try La Cabana for wonderful, inexpensive food, with a constantly updated menu and great staff and service. If you want a big bit of meat to get your lips round, there's a great steak bar called La Portena in Puerto Calero too.