The Village bakers are an LGBT social group with the aim to Bake it! Bring it! Share it! Within Manchester's Gay Village. Inspired by the Great British Bake Off, the Village Bakers was formed in November 2012 by a group of friends meeting and sharing homemade cake and lots of glasses of wine. Since then, the group has grown in popularity with over 500 followers on face book & twitter… The Village Bakers are taking the Manchester's Gay Village by storm!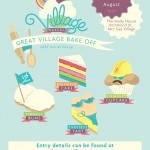 As the youngest LGBT social group in Manchester they have already achieved great things without using botox!!  Village Bakers has supported many charities and organisations and already contributed to The George House Trust Mobile Bake Sale raising in excess of £500, supported the launch of UK's first LGBT retail Network – Checkout producing rainbow inspired cakes. They have also supported Sparkle, A UK Transgender festival with a sparkle cake pop giveaway and running a baking masterclass. Regular foodie evenings are also organised including a fabulous tapas nights to bring people together and inspire foodie interests.
 One of the highlights of the Manchester Fringe calendar is the first annual 'great village bake off'. A camptastic baking event bringing Manchester's Gay Village together to help raise money for Manchester Pride. Individuals and organisations can enter their tartiest tarts, firmest buns, best rainbow cake or campest cupcakes to be judged by our panel. Everyone is encouraged to enter regardless of your baking ability, don't worry if you are used to a soggy bottom or your dough not rising you'll still be welcome at The Great Village Bake Off! There will be a variety of wonderful baking inspired prizes for you to win across the different categories. In true Village Bakers tradition of sharing, all entries will be available to sample once judging has taken place.
So grab your rolling pin, prove that bread, and squeeze your buns the village bakers are looking forward to judging your entry!  Enter online at the address below and come along with your tasty entry at the Molly House, Richmond Street, Manchester on 18th August 1pm.