Frankie Knuckles – Let's Stay Home
Out and Proud record producer (and the Godfather of House) Frankie Knuckles has a new project for us all to enjoy.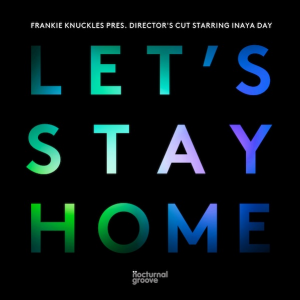 Director's Cut starring Inaya Day
'Let's Stay Home' (Ft. Tony Humphries Remix) 
NCTGD102
Legendary Frankie Knuckles steps into the arena armed with a sensational new release from his Director's Cut project alongside Eric Kupper, enlisting the beautiful vocal force of Inaya Day for Nocturnal Groove. In Frankie's own words: "Paying homage to clubbing in 'Old New York City', we give you 'Lets Stay Home'! – A feel good tune that's a throwback to when House Music made its greatest impact" Also featured on the package is a fantastic remix from fellow house music legend Tony Humphries, who puts his Jersey boy stamp on it to a monstrous effect!
"Music is much like fashion. The styles and trends go around and come back around. I remember having a conversation a few years back about bringing the BPM back down to a more sensible tempo. Every track that was coming out then was hovering around 126 to 128/30. With releases 'I'll Take You There' by Jamie Principle and 'Blind' by Hercules & The Love Affair we found the marketplace primed for a moderate dance tempo, ultimately giving the dancer greater longevity on the dance floor." – Frankie Knuckles
Director's Cut are a production duo comprising of two of dance music's most influential producers – Frankie Knuckles and Eric Kupper. They first launched the project in 2011, signing to Nocturnal Groove, with the massive single 'I'll Take You There', which featured long time friend and vocalist Jamie Principle on vocals. They have since gone on to woo dance-floors worldwide with their electric productions and remixes, reigniting anthems such as Frankie's 'Your Love', 'The Whistle Song' and Sylvester's 'Mighty Real', to further magical new productions including 'Get Over U' ft B Slade and 'Let Yourself Go' with Sybil, among many others. Director's Cut consistently add warmth, feeling and class to anything they touch, creating distinctive sonic beauty that resonates our dance-floors and beyond.
Inaya Day is an instantly recognisable talent. Her stunning vocals and performances worldwide have seen her scoop numerous UK, Aria, and Billboard top tens. Besides writing for herself, Inaya has written for Bootsy Collins, Randy Crawford, and Missy Elliot, to name a few. Inaya's first collaboration with Director's Cut was a duet with Robin S called 'Right Now', which featured exclusively on Frankie's 'Tales From Beyond The Tone Arm' album in 2012. In addition to 'Let's Stay Home', Director's Cut are busy producing a brand new project with her as the Inaya Day Allstars, which will feature a series of duets with musical peers.
1. Let's Stay Home (Director's Cut Classic Club Mix)
2. Let's Stay Home (Director's Cut instrumental)
3. Let's Stay Home (Tony Humphries Remix) 
'Let's Stay Home' will be released worldwide on 1st August on Nocturnal Groove.