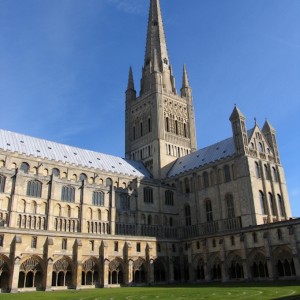 So much more than Delia Smith, Alan Partridge and tasty turkey! Adrian Gillan checks out those bootiful boys in East Anglian capital, Norwich!
Norwich is bootiful, really bootiful. Not just the city itself, which is indeed a kind of overlooked York – out-on-a-limb in the oft-forgotten lobe of East England – complete with castle, cathedral, walls, arches and spires plus old medieval saintly and trade street names! But also: the home-grown males in this town full-swollen by students, all strutting stuff around its ancient, compact, easily walkable lanes like some rare breed sure to broaden the smile even on one of Bernard Matthews' jolliest faces!
Stay & Eat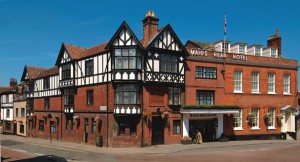 Step back in time – to the indisputable jewel in Norwich's accommodation crown! Completely refurbished in 2008, The Maids Head Hotel (Tombland, Norwich NR3 1LB; T: 01603 209955;) may have been winning recent tourist awards – but still claims to be the UK's oldest hotel, dating back over 800 years, and accounting the likes of Katherine of Aragon, Elizabeth I and Lord Nelson amongst past guests, not to mention the odd ghost amongst current residents! Will you smell "The Lavender Lady"? Dare you peak through the crack above "The Coal Door"? All 84 rooms are en-suite with free WiFi! The large suites are to die for! Centrally-located next to Norwich Cathedral, this now-sprawling 4-star landmark hotel is the perfect base from which to explore the city's scene and sights – if you can tear yourself away that is! You may be too busy relaxing in the roomy lounge; enjoying the olde worlde charm of the Maids Head Bar; pampering yourself in the beauty room; or savouring regional dishes in the light and airy Rosette-Awarded WinePress @ Wensum Restaurant. Try their scallops, then duck, then cheese cake – all paired with the finest selection of wines! Reserve the cute old Jacobean "snug" room – for something altogether more dark and intimate!
See & Do
The regional capital that is Norwich is, arguably, the most complete medieval city in Britain – boasting over 1,500 historic buildings – albeit now imbued with a truly modern vibe.
Get an overview on a CitySightseeing Norwich Bus, hopping on and off to see a range of sites including the medieval Dragon Hall and Strangers' Hall; plus the Victorian Plantation Garden. Learn the story of Norwich and its folk at the revamped Bridewell Museum. Trading since 1823, Jarrold department store is worth a visit, not least for a coffee in The Pantry café.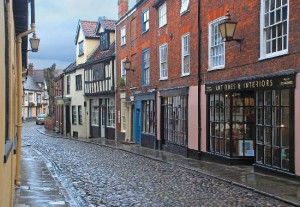 Be inspired by Norwich Cathedral, sporting the largest cloisters, and second tallest spire, in England – not to mention its picturesque adjoining Close. Get lost in the warren of medieval alleys lined with small speciality boutiques in the Lanes – contrasting nicely, along with the luscious Art Nouveau Royal Arcade, with the city's more modern precincts, not to mention its large central outdoor market. Admire attractive half-timbered houses, most notably along the cobbled Elm Hill. Explore the 12th Century Norman Castle, with its Museum & Art Gallery, brimming with local historic treasures.
Visit some of the 30+ medieval churches within the city walls alone, many converted to other uses now – such as Norwich Puppet Theatre, or Norwich Arts Centre. Take in a show at the Theatre Royal or Norwich Playhouse – the latter, sometime host to the fab touring Merry Opera.
The Norman Foster-designed Sainsbury Centre for Visual Arts boasts a truly world-class collection – with a particularly fine line in major works by Moore, Bacon and Giacometti. Awesome.
Eat Some More
Feeling peckish? Then settle into Tatlers Restaurant (21 Tombland; T: 01603 766670;), with its locally-sourced seasonal ingredients, friendly service and cosy "town house" atmosphere – plus ace-value lunch menu! Try the onion soup, then the lamb sausage, then the almost obscenely enormous chocolate mousse!
Or, for lighter fare, pop into Hot Chip (29-31 Orford Place;), for chips with a modern healthier, tastier twist! Try the "Italian Stallion"! And all owned by a real-life Lord!
Dance & Groove
Stomach filled, hit The Catherine Wheel (61 St Augustine's;) north of centre.
Get gay bearings at Lollards Pit (69-71 Riverside Road;) near the railway station.
Then make a short stroll due west to recently refurbished gay Norwich stalwart Loft NR1 Bar & Nightclub (78-80 Rose Lane;) open every Thurs-Sun from 10pm 'til late to either chill out in the ground floor Loft lounge bar or even venture upstairs to the club with its spacious dance floor.
Or march due north to storm The Castle (Spitalfields, off Ketts Hill;) – its dance space, U-NITE, opening around 10pm cum weekends.