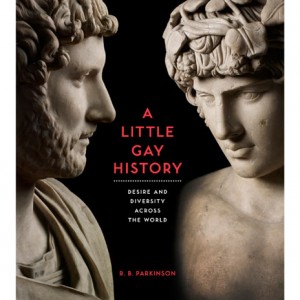 The British Museum is publishing A Little Gay History by curator R. B. Parkinson. The book draws on around forty objects in the museum's collection ranging from ancient Egyptian papyri to works by modern artists including David Hockney and Bhupen Khakhar to look at same-sex desire across 11000 years and across world cultures.
It is accompanied by two web trails, and there will be a lecture at the British Museum on the 28th June to celebrate the launch. Here are six facts from the book:
1 The oldest chat up line in human history is between men. Same-sex desire seems to have been part of human experience from the earliest recorded times. In a poem from ancient Egypt, around 1800 BC, one male god tries to seduce another by saying 'What a lovely backside you have!' (neferwi-pehwi-ki). Outside poetry, no male-male couples are known from Ancient Egypt: when two men are buried together, it seems that they are twins not lovers, as in this funerary inscription from 1325 BC.
2 Visitor surveys for a blockbuster exhibition on the roman emperor Hadrian in 2008 suggested that surprisingly few people knew that Hadrian preferred men. His grief for his young lover Antinous (who drowned in the Nile in 130 AD) was extreme, and he commemorated his love in huge numbers of statues, making Antinous into a god. His life inspired Marguerite Yourcenar's great novel Memoirs of Hadrian (1951), which led to her being the first woman ever elected to the French Academy – despite the fact she'd taken American citizenship so she could live with her partner Grace Frick in North America.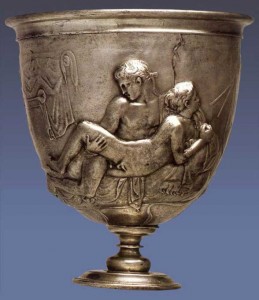 3 The 'Warren Cup' is surprisingly small but shows scenes of men making love. Made in the Roman Empire around 1BC-10 AD, it is now known after its modern owner, the American art collector Edward Perry Warren (1860–1928). He lived with his friend (and probably lover) John Marshall in Lewes in Sussex, and he referred to the cup as the 'Holy Grail'. In 1999 it was finally acquired by the British Museum, who had not purchased it earlier in the 1950s when 'homosexuality' was still illegal in Britain. It has been on public display ever since for everyone to see, free.
4 Many societies in the eastern Pacific or Polynesia accepted same-sex acts, much to the consternation of 18 the century European explorers. In Hawaii, young masculine men called aikane would have sex with the king. A surgeon on Captain Cook's ship The Discovery, noted in 1779 with some surprise that 'it is an office that is esteemed honourable among them & they have frequently asked us on seeing a handsome young fellow if he was not an [aikane] to some of us'. This highly stylised treasure box from New Zealand includes a scene of oral sex.
5 The British Museum has been a stage for gay love. Its displays of Greek and Roman statues have helped shaped modern gay identity. In E. M. Forster's gay novel Maurice, a Cambridge graduate finds love with a gamekeeper, and the turning point takes place in the galleries of the British Museum. Here the two men finally realise they love each other, as rough trade turns into romance. The book was filmed by Merchant Ivory Productions in 1987 with a stellar cast and using the original locations in the galleries: gay romance on a grand scale, and with a happy ending.
6 The British Museum has objects about modern sexuality as well as ancient. Its collections of badges include ones for LGBT rights, representing over four decades and a wide range of issues. Some are serious, and some wittily caricature stereotypes about gay identity, such as the badge by the cartoonist Kate Charlesworth. And the Museum has other historic links with the struggle for equal rights: Lord Wolfenden, whose 1957 recommended the decriminalization of homosexuality, was also a director of the British Museum in the 1970s.
A Little Gay History
Paperback £9.99