LIVERPOOL PRIDE NEEDS A HERO!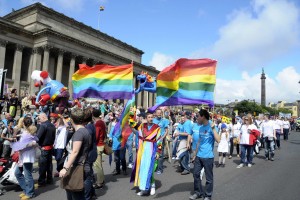 Photos:  Jeb Smith
When Tina Turner said that we don't need another hero, she was wrong. Liverpool Pride is expecting thousands of them to join this year's March, which will fly through the city's streets on Saturday 3rd August.
The marvel of caped crusaders will take flight at St Georges Plateau at 12pm, with participants asked to gather from 11am. It will then process along Lime Street before taking in Queen Square Bus Station and Whitechapel before making its way along Lord Street and North John Street before turning down James Street, crossing The Strand over Mann Island and landing in front of the main stage at the Pier Head, where the afternoon's entertainment will begin.
The undoubted highlight of the festival, the Pride March gives the LGBT community, their friends and their families the chance to take to Liverpool's streets in a blaze of colour, music and this year; SPANDEX, whilst raising awareness of homophobia and the importance of a united community in the local area.
James Davies, Festival Manager at Liverpool Pride said: "We're delighted to return to St George's Plateau for the start of the March and are grateful to have Hugh Baird involved as a sponsor. The community well and truly spoke when they chose the superhero theme, so we expect to see everyone marching together as Wonder Women or Super Men on the day. We have already been inundated with registrations, a lot more than we had at this time last year, so we're expecting a record turnout of Liverpool Pride marchers through the city on 3rd August."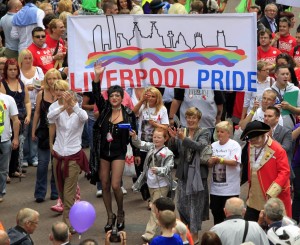 Last year, over 3,500 people took part in the Liverpool Pride March with Patron Angela Eagle MP at the helm and Liverpool Football Club leading the way as the UK's first Premier League team to take part in a Pride March. Political Organisations, Trade Unions, the Police and Fire and Rescue Service were also represented in addition to many local gay bars, shops, restaurants, individuals and their nearest and dearest. 7000 people turned out to cheer on marchers in 2012. Both of these figures are expected to increase in 2013 as the festival continues to grow in its popularity.
Similarly to previous Liverpool Pride Marches, there will be no motorised floats included, in order to place more emphasis on the issues of Homophobia in the Liverpool LGBT community and also to keep the festival's carbon emissions to a minimum.
LIVERPOOL PRIDE NEEDS A HERO! So, don your gold lamé cape, show us your underpants and bring yourself, your trusty sidekick, friends, family, work-mates and groups along-to take part in the March, which is completely free to join. Everyone is welcome and is invited to sign up at liverpoolpride.co.uk/march before 31st July.
Liverpool Pride 2013 will take place on Saturday 3 August at Liverpool's iconic pier-head and throughout the Stanley Street Gay Quarter. In addition to this, there will be a weekend of cultural events taking place at some of Liverpool's most influential arts and cultural establishments.
Make sure you check out liverpoolpride.co.uk , @LiverpoolPride on Twitter and facebook.com/LiverpoolPride to have your say and for all of the latest pride news.