Book – THERE'S A BUG GOING AROUND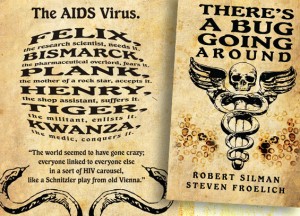 By Robert Silman and Steven Froelich
This novel was written in the 1990s at the height of the AIDS scare when the gay community particularly, faced the paranoia that surrounds a life-threatening incurable and untreatable disease.
One of the central ideas of the book was, then, a piece of science-fiction: the novel asks why one virus could not be used to fight another. Then at the end of last year, science caught up with fiction, as the principal idea of the novel – one virus curing another – and literally the last three lines of the book, written more than 20 years ago, came true.
An original black comedy thriller set in the medical world, There's a Bug Going Around highlights how, shockingly, AIDS became a means for advancing the professional career of scientists: reflecting the real-life 90s scientific rivalry, full of vitriol and accusations of theft, between Gallo at the National Cancer Institute in the US, and Montagnier at the Pasteur Institute in France over who was the first to discover the HIV virus, which escalated to discussions between Reagan and Chirac.
You could say the principal character in There's A Bug Going Around is the HIV virus…  Each chapter summons up a distinct human reaction to its presence. Felix, the research scientist uses it as a means of fulfilling his professional ambitions and for settling scores with his father.  Bismarck, the homophobic President of a drug company, wants it hunted down and destroyed.  Mrs Plank, the mother of Darius, a self-obsessed rock singer, uses it as a weapon in the war of belittlement against her son.  Henry, the ineffectual shop assistant, is martyred because of it. Tiger, the gay militant, uses it for political mobilisation.
It's a social dance macabre…
Published by Tambar as a £22.99 hb, £12.99 pb & £9.50 ebook