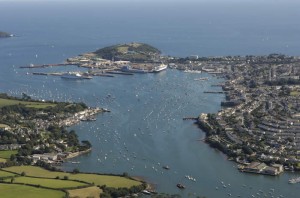 Bugger Bondi! Adrian Gillan far prefers the handsome surfer types wafted in by warm Gulf Stream winds all-year-round down in and around Cornwall's lovely, balmy Falmouth! And there's never been a better time to visit than during the Fal River Festival (24th May – 2nd June)!
It's a surprisingly long chug down to, then along, Cornwall's breathtakingly beautiful peninsula, in the South West of England. But as your train steams ever closer, the winds do get warmer, the boys hotter.
The Fal River area – from Truro to Falmouth, and all in between – is Cornwall's most popular visitor destination. Hardly surprising – for an Area of Outstanding Natural Beauty, home to award-winning hotels, eateries and attractions! Enjoy walks, cycle rides or water sports; saunter through ornate gardens and historic castles; gorge on freshly landed fish; or simply lie back on sun-kissed beaches.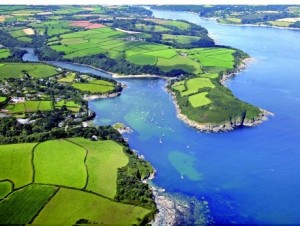 Like its tad more raucous cousin Newquay on the north coast, student-brimming arty Falmouth – and the whole Fal River area – may even be quietly becoming, in its own unassuming way, a bit of a gay mecca!
TO STAY & EAT
Stay at the luxurious yet still environmentally-minded, 4-star Greenbank Hotel (Harbourside, Falmouth, Cornwall TR11 2SR; T: 01326 312440;), with origins traceable back to 1640 and where Kenneth Grahame conceived Wind in the Willows in 1907, via letters home to his son. It has an enviable position overlooking the lovely Fal estuary; stunning rooms; welcoming yet attentive staff; seductive bar; and amazing restaurant perched right on the water. Many of the wide range of roomy bedrooms have breathtaking views out across Falmouth Harbour to the Roseland Peninsula. All are en-suite and well-equipped, boasting "Deluge" showers, flat screen TV's and free wifi. Down top-notch off-the-menu breakfasts in the Riverbank Suite too – try the yummy smoked haddock with poached egg!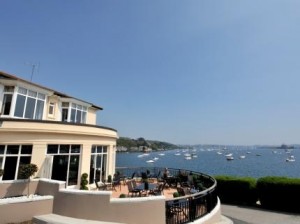 Relax with an expertly-mixed pre-dinner cocktail in the hotel's newly refurbished well-stocked bar as you excitedly chat, or just daydream out across the harbour – perhaps from the spacious outdoor terrace. And if you are feeling a tad peckish – all those sea breezes sharpening the appetite! – stir no further…
With a breathtaking 180-degree panoramic view of one of the world's largest natural harbours, the hotel's chic, bright Harbourside Restaurant is the perfect place to enjoy the local, seasonal, freshly-caught fruits of the sea – not least red mullet, Falmouth Bay oysters or succulent sea bass. Savour modern British cuisine at its best, under talented Kiwi head chef, Fiona Were – ultra hot on gluten-free and veggie fare too! For a unique fusion of Cornish and Japanese cuisine, maybe even try the famed Greenbank Steak & Sushi Night – every third Friday of the month! Or indulge in a wide range of sky-high-piled Cream Teas – any day you please!
FAL MUSSEL CARDS: YOUR PASSPORT TO TRANSPORT AND ATTRACTIONS
The money-saving Fal Mussel Visitor Card allows unlimited no-hassle hop-on hop-off car-free travel on over 20 ferry, train and bus services that link the Fal River, plus a range of great offers and discounts at shops and such. Additionally, the Fal Mussel Card Visitor PLUS is an attractions pass, giving unlimited entry to a selection of the gardens, castles and museums around the Fal River – notably the National Maritime Museum Cornwall, Pendennis Castle, St Mawes Castle, Glendurgan Gardens, Trelissick Gardens, Lamorran Gardens and Carwinion Gardens.
TO SEE & DO
Armed with the above two cards, for travel and sights, there's loads to see and do around the Fal River – from the Roseland Peninsula and St Mawes, to the creeks of Helford, like lovely Gillan Creek – not to mention the very county capital of Truro, complete with cathedral. Castles and gardens abound.
This is an all-year-round active place too. There's the boating, sailing, fishing. There's the cycling, walking, climbing; not to mention jet-biking, kiteboarding and kayaking. There are the various beaches. And, of course, there's all the surfing. All hubbed around numerous activity schools.
Top tip is a trip on Orca Sea Safaris, leaving Falmouth on the purpose-built high-speed water-skimming Seaquest of Falmouth, taking in the dramatic history and spectacular sights of the waters and coastline, including lighthouses and wrecks, plus any wildlife in the area – potentially dolphins, seals, whales, seabirds and basking sharks! Keep 'em peeled for the odd nudist beach along the way! Do the popular 2-hour epic out to 'The Lizard', or just the 1-hour taster-tour around the bay!
Attractions in Falmouth itself include the stunning hands-on National Maritime Museum Cornwall complete with café and lofty look-out tower, the nationally-renowned Falmouth Art Gallery, 'Jacob's Ladder' alley with its 100+ stone steps and The Poly arts centre. Also, don't miss the Pendennis peninsular, with its Tudor castle and pleasant walking loop.
FAL RIVER FESTIVAL – 24th May – 2nd June
And there's never been a better time to visit the area than during the Truro & Penwith College Fal River Festival, taking place 24 May – 2 June 2013. Now in its 8th year, this fantastic 10 day festival is a not-for-profit community affair offering locals and visitors alike a chance to – well-nigh literally! – embrace the people, places, history, culture, sport and industry that are connected by this very Cornish river. The fest's 150 diverse events – taking place at dozens of locations around the Fal River – cover everything from music and drama, the arts and heritage, to gig racing, swimming, walking and lots more.
Events lined up for this year include the Fal River Walk, Castle to Castle Swim and Fal Fish Festival, plus the award-winning Film on the Fal and – of course! – the opening Beer Fleet Parade! Last year (2012) more than 100,000 people attended a range of different events helping raise a massive £75,000 for charity – while enjoying 3,000 pints of ale, larger and cider! Enough to make you burp your pasty!
TO BOOZE & CRUISE
There are no gay-dedicated bars or clubs in Falmouth itself, but ample gay-friendly fun at any of a clutch of pubs in and around the town centre. For the nearest gay bar proper, simply head to lively Bar Qdos (13 New Bridge Street, Truro TR1 3AA) in county capital, Truro.