Travel – Breathless in Venice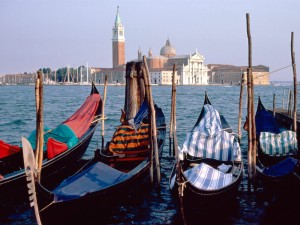 Gaping gondolas! Adrian Gillan visits one of the most genuinely unique, beautiful – and frankly unlikely – cities on Earth! But quick… the waters are rising!
It makes Amsterdam look positively land-locked! And gives Canal Street a whole new meaning! One of our planet's indisputable urban wonders, former wealthy city-state Venice – once conquered by Napoleon and ruled by the Austrians – offers rich history and high culture amidst a romantic, watery world of bobbing gondolas, tiny tourist-teeming bridges and timeless alleys.
TO SEE 'N DO
Take the land bus or waterbus (Alilaguna) from Marco Polo Airport right into the heart of Venice, where you can easily get about by foot and on further waterbuses (vaporetto) – or, if cash to splash, on smaller water taxis, or even the iconic gondolas for the odd romantic treat, however pricy 'n cheesy!
Head straight for St. Mark's Square, to the famous Campanile Tower for lofty vistas, free-entry St. Mark's Basilica, plus Doge's Palace with its Bridge of Sighs. Take in an opera at the nearby splendid Teatro La Fenice, described by many in the know as "the world's most beautiful opera house", albeit one that has been burnt down and rebuilt more than once – or see something at its gorgeous sister venue, the Teatro Malibran. Cross the Grand Canal via the stony Rialto Bridge, to the buzzing market; or via the metal 'n wood Accademia Bridge, to the Accademia Gallery for old art, or Peggy Guggenheim Collection for new art, plus glorious Santa Maria della Salute church. Also catch the Galleria Franchetti collection, housed in the spectacular Ca' d'Oro; plus Ca' Pesaro, over the way.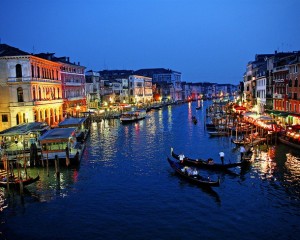 Further waterbus rides out into the Venetian Lagoon take you north to the San Michele cemetery island and the satellite isle of Murano, and yet further to Burano; or east to the long beachy Lido island, and its evocative Hotel des Bains, gay-immortalised by Thomas Mann in his novel Death in Venice, with a little help from the Fellini film and Britten opera.
Main events include the famous Venice Carnival (Feb) for parties, costumes and parades; Venice Biennials (alternate summers) for contemporary art; and Venice Film Festival (Aug).
TO BOOZE, BOP 'N CRUISE
No clubber's paradise exactly, in the land of The Pope, but ample to keep even a disco bunny busy! Both of Venice's two main gay venues are, in fact, in Mestre, just over on the mainland, easily enough reached by local buses along the long connecting bridge.
Cruisy PDM Bar (Via delle Macchine 41/43, Mestre; T: +39 041 921247;) hosts Glitter Disco every Friday and Saturday night. Metro Sauna (Via Cappuccina 82/b, Mestre; T: +39 041 53 84 299;) is a small gay steamery with Jacuzzi, Turkish bath plus lounge-bar.
TO STAY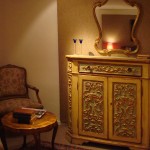 For an authentic slice of comfortable Venetian life, check-in at B&B Dorsoduro 461 (30123 Venice; T: +39 041 52 86 172;), where you will receive a warm welcome from lovely Francesco – amidst namesake Dorsoduro, one of the most beautiful and charming districts in town, close to important art galleries such as the aforementioned Peggy Guggenheim Collection and the Accademia Gallery. Its three lovely double rooms are perfect for sleep and relaxation, all with their own private bathrooms and free Wi-Fi, offering a pleasing blend of classic Venetian style and the informal air of a home. Moreover, the bedrooms cluster cosily around an intimate common area, well-nigh flooded with Venetian charm: books, eighteenth and nineteenth century furniture, paintings, lamps and unique antique objects. Very refined! Breakfast heartily, each morning, in the second floor dining room, before exploring the local district and wonderfully watery wider city.
OTHER USEFUL CONTACTS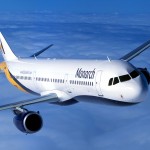 • Monarch, the scheduled leisure airline, operates flights to Venice from London Gatwick, Birmingham and Manchester airports with fares, including taxes, starting from £36.99 one way (£76.99 return). In addition to year-round low fares, Monarch also offers a range of products and services, both on the ground and in-flight. Everyone is allocated a seat at check-in but seats can be pre-booked from £5.99 per one-way flight, to ensure that families and groups are seated together. For those looking for added comfort, extra legroom seats are also available, offering up to six inches of extra space, from only £9.99 one-way. You can also take advantage of online check-in, available between 18 days and 4½ hours prior to departure. A great range of tasty hot and cold meals can be pre-booked or purchased onboard.