The new Archbishop offers to meet Tatchell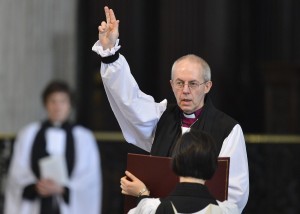 The new Archbishop of Canterbury, Justin Welby, has offered to meet the human rights campaigner Peter Tatchell. He wrote:
"Dear Mr Tatchell, Thank you for your very thoughtful letter. It requires much thought and the points it makes are powerful. I would like to explain what I think to you without the mediation of the press, and listen to you in return."
The offer to meet follows Mr Tatchell's Open Letter to the Archbishop in which he criticised Justin Welby as "homophobic" for supporting a legal ban on same-sex civil marriage. He also criticised the Anglican Communion for colluding with local dioceses that endorse the persecution of gay people in Africa.
Commenting on the Archbishop's offer to meet him, Mr Tatchell said:
"I am surprised and delighted. The opportunity for dialogue is appreciated.
"Within three hours of me sending the Archbishop my Open Letter, he responded in person by email.
"I commend Justin. His swift, personal reply is laudable, especially given how busy he is with his enthronement and with Easter next week.
"His willingness to engage in discussion with me is praiseworthy – all the more so because he comes from the conservative evangelical wing of the church.
"The plan is to meet after Easter. I will be urging a rethink of the church's opposition to same-sex civil marriage and an end to Anglican collusion with the persecution of gay people in Nigeria and Uganda.
"I hope our meeting will be more than just window-dressing and good PR for the church. I'm expecting a bit more than tea and sympathy.
"This is the first time any Archbishop has offered to meet me. Even a liberal like Rowan Williams never invited me to Lambeth Palace. Justin's invitation is progress," said Mr Tatchell.