Little Gay Boy ChrisT Is Dead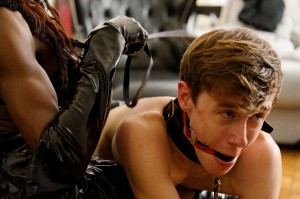 Watch out for a new short concept film that is doing the Queer Film circuit and one that is already proving a hit on YouTube.
It's called Little Gay Boy ChrisT Is Dead and is the second of a Triptych of films that director Antony Hickling has visualised as a piece of performance art, dance and filmatic expression.
The story centres on Jean Christophe who lives with his mother, an English prostitute in Paris. He dreams of becoming a model. Over the course of a day, JC endures a series of abusive encounters that will change him forever. He goes from innocence to experience as he and his dreams are destroyed by those around him. The violence of the film is accentuated by the use of BDSM,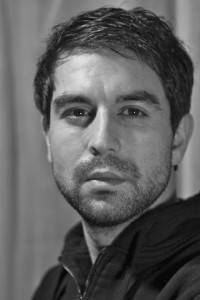 Antony Hickling, who has been working as actor, performer, and director for more than 15years, explains his thoughts behind such a dynamic, and often disconcerting, vision.
"I wanted to make a film that dealt with abuse and the loss of innocence. The result of the abuse implies consequences on the developing sexuality of the character. Teorema by Pasolini and certain plays by Copi were inspirations for the Little Gay Boy Christ is Dead."
He takes us further into the experience of his poor, abused character. "We follow Jean Christophe for one whole day as he moves from one abusive situation to another. A kind of Groundhog Day. Each situation without mercy, a kind of abusive life intensified into one day. I wanted Jean Christophe to confront each situation with innocence, a child like expectation for positive experiences. I wanted him to give himself almost sacrificially as Jesus to the cross, untarnished by the experience before. He takes the abuse almost willingly, certainly submissively. Inwardly directed violence wrought by a brutal outer life. The abusive boss, manipulating mother, the homophobic young man…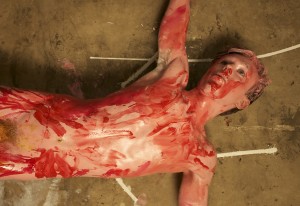 "My desire was to use dance to express the interior violence felt by Jean Christophe. The painted white body of the dancer hurling himself to the ground becomes a suffering blood red. Likewise the use of BDSM shows the parallel between Jean Christophe and Jesus Christ. The crown of needles reminds us of the crown of thorns before the crucifixion.
The spectator should be unsure as to whether the situations are willingly chosen; and reflect his desire and pleasure, or that of manipulation and abuse. The use of BDSM, a chosen sexual adult choice, once again helps insist on the ambiguity of Jean Christophe's choice or desire within each sexual encounter."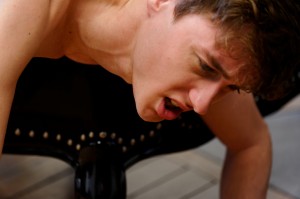 The film will be showing at the London Lesbian and Gay film festival / BFI SOUTHBANK on the 22nd and 23rd March as part of the shorts program 'Queer Provocations', expect nudity, sexual exploration and humiliation. The film will show at the Kino film Festival in Manchester on 15th May, with 2 other of Antony's Queer/LGBT shorts.
www.kinofilmfest.org.uk