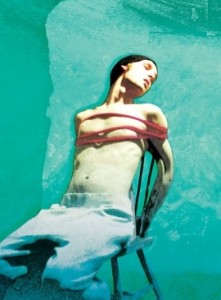 Disturbance is delighted to announce the first full production of The 8th Wave by James Ernest, a young, gay writer with a bright future.
In little over a year, James has gone from lowly student to highly rated: his play, The 8th Wave, was a shortlisted finalist in the inaugural Soho Young Writers Award and won him a Special Commendation; after preview performances at the Dyspla festival late last year he was invited to take it to the Toronto Fringe Festival; now it gets its first full run in London at The Space.
A raw, sexually charged, but ultimately poetic thriller, The 8th Wave details the relationship between Brian, a middle-aged shopkeeper and Mathew, a young would-be thief.
Brian is used to having things just as he likes them, his little shop a model of propriety. When young scally Mathew breaks in Brian is outraged that someone has violated his highly ordered but solitary life. Brian overpowers Mathew, restrains him, and takes him hostage. Mathew looks certain to suffer a horrible and violent fate. However what unfolds is a tender identification as the two realize they have more in common than they first expected.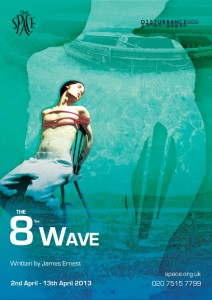 Opening at The Space on the 2nd April, The 8th Wave draws parallels between the loneliness felt by isolated older gay men and the disconnection felt by younger people. It also looks at the dynamics of that most enduring relationship in gay culture: that between an older and younger man, a dynamic paralleled in the production team where an experienced gay producer is working alongside the young gay writer.
The play contains scenes of male nudity and may not be suitable for younger audiences.
Don Mc Camphill, Creative Producer of Disturbance said: "In many ways this is a key relationship type – that between an older and a younger man – and James' play exactly captures the warmth and emotional depth that can be contained in this kind of coupling. This play really touches the heart, it's a very idealistic and hopeful piece of work."
The 8th Wave is running at the Space from 2nd-13th April.
For all booking enquiries please contact the box office on 020 7515 7799 or go to www.space.org.uk