LGBT History Month – ME & ALAN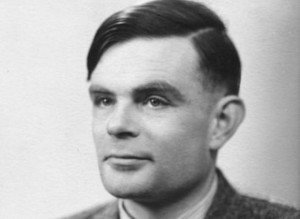 New playwright Okey Nzelu talks about his latest project about two young men, relationships and Alan Turing.
Me and Alan is a comic radioplay about two young men who are very different, but who both resemble Alan Turing in their own ways, as well as having some characteristics of their own. Ruairidh, the main character and also the narrator, is studying for a PhD in Morphogenesis, a field of Biology which Turing had pioneered. Alan Cox is a sociable, much more physically active young man who thinks he's a reincarnation of Alan Turing but is, unfortunately, a little thick.
Writing it was easy in some ways and very difficult in others. Easy in that the project was very exciting (I'd never written drama before, and I'd already decided that I wanted to act it as well); but also because I felt like I had a lot to say.
I was thrilled to be writing about the life of Alan Turing, especially after I discovered that, like myself, he was a runner (although he was a much better one than I'll ever be). But I also felt that certain aspects of life for gay men today are perhaps understudied, and this felt like a chance to help redress that balance. I wanted to write about friendship, rather than love or sex: the kind of companionship between gay men who aren't romantically involved, which I think is very precious. I also wanted to write a story about living with HIV which didn't have a moral attached.
Issues of loneliness, isolation and solitude (which aren't the same thing) interested me too, and they formed the basis of the story. I wanted to suggest that they can come in different forms for all kinds of different reasons. In the 1950s, being a gay man often meant living a double-life, or simply a life of fear and secrecy. From my research, I understand that the stigma attached to HIV today can incur a similar kind of isolation. Then again, there are people who prefer working alone, sometimes struggle to work closely with other people and don't enjoy socialising in big groups: this was true of Turing; and of Ruairidh. Ruairidh softens a little, however, when he finds friendship with Alan Cox.
The hardest thing about writing the radioplay was doing justice to all the information I'd been given. Apart from the two biographies of Turing I read, I was fortunate enough to be able to interview two very helpful people. Not having HIV myself, I wanted to make sure I wrote as accurately as possible about it, so I interviewed the very kind Ben Whalley at the George House Trust, a HIV charity in Manchester, and I did some reading on HIV in young people. I also interviewed a man who had known Turing himself, and who had run with him in Manchester in the 1950s. I was a little nervous about acting in the radioplay, so to have him tell me that I actually spoke a little bit like Turing (quite poshly and a little over-polite) was quite reassuring.
Plans for transmission of the play are still being finalised but stay tuned for an update.