The Hidden Gem Transforming the Sunderland Scene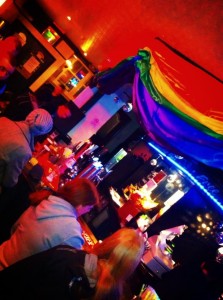 By Ryan Houston
Once upon a time, The City Taverns was the place to be in Sunderland for lesbian, gay, bi-sexual and transgendered people. It was Sunderland's only gay bar, with cheap draft, camp music and Miss Roxy Tart, the first queen on the Scene.
The bar paved the way for the growth of Sunderland's Scene. Since its closure, bars popped up out of the woodwork almost every month, and now ten years on it's back to add more sparkle to Sunderland.
Re-branded as The New Central, in just a few short months the venue has brought something back that has been missing for some time, every night of the week, including the established gay night of the City; Tuesday.
Those readers who are regulars to LGB&T venues across the UK will understand that not all visitors to these venues receive a warm welcome. Not at this venue. You're practically guaranteed to walk out with a smile on your face, or your sides hurting from laughing. Whether it be from the sensational drag act line-up, which in recent months has included Funny Girls star Danni Dee or the foul-mouthed but lovable Kitty Litter, though there are even with many more acts planned for the future. Having said that, just chatting with the friendly locals should also keep you well entertained.
The hidden gem on Bridge Street in the City Centre is open daily, and has weekly events including;
Sunday Lunch until 6pm with Karaoke from 7pm till late
Tuesdays with Miss Lucy before the Sunderland Scene kicks off at Park Lane, and Vine Place
DJ Skippy on Friday's
As well as a whole host of entertainment throughout the year info on the bars facebook page – Facebook.com/TheNewCentralSunderland
If you're visiting Sunderland, this venue is a must visit!