OUT DESTINATION – FORT LAUDERDALE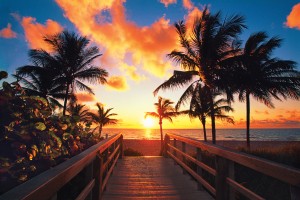 By Joey Amato
Known as one of the USA's foremost LGBT capitals, Fort Lauderdale definitely offers visitors a plethora of dining, entertainment and cultural options, not to mention miles of pristine beaches perfect for those looking to catch some rays while listening to the mesmerizing sounds of the Atlantic.
Fort Lauderdale is actually three destinations in one.  The first, Fort Lauderdale Beach, is a picturesque ocean-front destination dotted with high rise condominiums and hotels, including The Ritz-Carlton, W and Hilton.  Dozens of beach front restaurants, shops and attractions line North Atlantic Boulevard, also known as A1A and are extremely gay-friendly.
But the charm of Fort Lauderdale Beach lies just two blocks inland. Those looking to avoid swanky hotel chains in favor of smaller, more personal accommodations should head to one of over a dozen LGBT-owned guest houses, most notably, The Grand Resort & Spa.
The Grand is the largest gay-owned and operated men's resort on Fort Lauderdale Beach, offering 33 luxurious guestrooms, two pools, a Jacuzzi, full-service spa, fitness center and complimentary breakfast.  Stay in one of the suites, which contain a separate living space and full kitchen, perfect for those looking to spend a few extra days of fun in the sun.
Guests can enjoy the resorts famous Sundown Happy Hour every Thursday thru Saturday before heading to one of the beach's fine restaurants including Steak 954, 3030 Ocean or Coconuts, where diners can savor delicious American cuisine including New England Lobster Rolls, Coconut Shrimp or the fresh catch-of-the-day while watching the sunset over downtown.
Enjoy some after dinner libations at any one of the many venues on Las Olas Boulevard including Yolo, or head to Wilton Manors, South Florida's gay mecca.  Just a few miles from Fort Lauderdale beach, Wilton Manors is an epicenter of gay culture.  Dozens of gay-owned shops, restaurants, bars and clubs are clustered along Wilton Drive, making the area a one-stop destination for the LGBT traveler and a great place to mingle with the locals.
Sports enthusiasts should head to Sidelines, a friendly neighborhood sports bar offering daily drink specials and a great mix of men and women alike.  Beer aficionados should visit Wilton's Bier Garden, a fairly new establishment offering 16 beers on tap and over 100 different bottled beers imported from countries around the world including Germany, Belgium and Scotland.
Dance the night away at The Manor Complex, a huge mega club in the heart of Wilton Manors which combines a restaurant, ultra lounge and nightclub all into one upscale experience. Check out The Manor's website for a list of daily events which include special appearances by world-renowned DJ's and numerous live performances throughout the year.
After a fun evening of partying, culture buffs should visit the Fort Lauderdale Museum of Art, located in downtown Fort Lauderdale.  The museum is home to a permanent collection of more than 6,000 works including significant pieces by the artists of the northern European CoBrA movement and contemporary Cuban artists. The museum also offers numerous unique exhibitions which included the recent Primordial: Paintings and Glass Sculptures by Isabel De Obaldía and upcoming original exhibition, SHARK.
A few blocks away is the Museum of Discovery and Science consisting of 85,000 square feet of interior space, a 300-seat AutoNation IMAX Theater, and an open-air grand atrium.  The Museum features dynamic interactive exhibits in the natural and physical sciences and a large array of programs designed to serve diverse audiences.
If you'd prefer to spend a more casual afternoon with friends, head to Rosie's Bar & Grill, and enjoy some of the best burgers, sandwiches and salads in Fort Lauderdale.  I suggest trying the She BOP Wrap consisting of grilled chicken, bacon, fresh avocado, cheddar cheese and herb mayo rolled into a tomato-basil tortilla with a side of homemade sweet-potato fries.


For a different flavor, head to Rodeo, a restaurant specializing in Southwestern, Tex-Mex and Cajun cuisine.  For a quick bite, sample Rodeo's delicious Fried Green Tomatoes, Barbeque Nachos or New Orleans Quesadilla.
While in town, be sure to stop by the Stonewall National Museum & Archives, an extraordinary collection of cultural and historical artifacts celebrating the LGBT community.  The museum is home to over 21,000 books, 19 traveling exhibits and over 7,000 artifacts including the gavel used to end "Don't Ask, Don't Tell."
Fort Lauderdale is also home to many LGBT charitable organizations including SunServe, Out of the Closet and Broward House, South Florida's oldest and largest HIV/AIDS community service organization.
If your vision of a vacation includes the hottest go-go boys in South Florida, then visit Johnny's Fort Lauderdale, one of three bars in town featuring nightly go-go dancing.  The staff and dancers at Johnny's are always welcoming, so if this is your first time visiting, they will make you feel right at home.
Upon arrival to Fort Lauderdale, be sure to pick up a copy of either South Florida Gay News or Hot Spots magazine.  Both publications will provide you with great information about what's happening around town including special events, nightly drink specials and LGBT community news.
For more information, visit www.sunny.org/glbt
OUT Destinations is part of OUTreach Public Relations, a company specializing in LGBT marketing.  Founded by Joey Amato in 2012, OUTreach PR has quickly become one of the most sought after companies for celebrities, corporations and non-profit organizations looking to target the ever growing and affluent LGBT consumer. 
For more information, please visit www.outreachpublicrelations.com.