Tellin' Stories – Terry George – London Olympics
Olympic Fever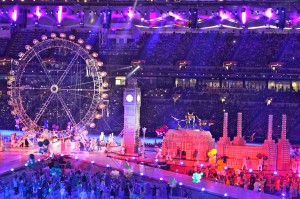 I feel extremely privileged to have been at both the opening and closing ceremonies of the London Olympics. I got to spend quite a bit of time in London throughout the games, and to soak up the fabulous atmosphere. It sounds clichéd but it really was a once in a lifetime opportunity (although I am going to the Paralympics too, so twice in a lifetime in reality!)
Whilst London itself was a lot quieter than normal, there was a real buzz around the city wherever you went, from the thousands of volunteers, to the army of international fans dressed up in crazy costumes. Even the police got into the spirit, and they kindly obliged when I asked if I could wear one of their helmets.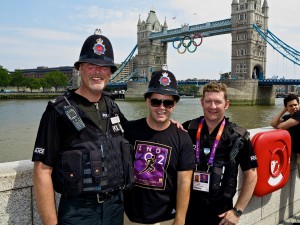 There was a real air of anticipation before the opening ceremony, and I couldn't wait to get into the Olympic Stadium. When I got off the tube in Stratford though I was firstly directed straight into the Westfield shopping centre, which is amazing. Definitely on my list to visit again for some retail therapy. If you go up to the 3rd floor of John Lewis they have a viewing gallery where you get a great view of the Olympic Park.
The highlight of the opening ceremony for me had to be Her Majesty The Queen with the gorgeous 007 himself, Daniel Craig. I couldn't believe it when her Royal Highness actually turned round. Like millions of others I thought it would be her lookalike, who's probably down at the job centre looking for work now.
I felt really safe inside the stadium with all the military personnel acting as security, more so than if it had just been the private contractors. Everything was so well organised too.
People who watched on TV kept asking if the light stands in front of us which were attached to all the seats were annoying, but they didn't get in your way at all and the lighting effects were incredible.
I'm not hugely into sport myself usually, but funnily enough I got really into the men's gymnastics and diving. Great bodies and incredible strength…
The final night of the athletics was great too. I must have lived in a box previously, because I wasn't familiar with Mo Farah before the Olympics, but I certainly am a big fan now. Of course Mo Farah too, he was just incredible with the audience around the stadium and he came up really close to us in the stand.
It was a shame it all had to come to an end, but what a finale! The John Lennon and Freddie Mercury holograms brought a lump to the throat and when Elbow's hit 'One Day Like This' serenaded all the athletes into the stadium I really had tears in my eyes.
I thought Gary Barlow was so brave during his performance after his family tragedy.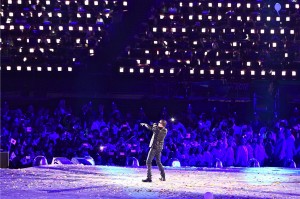 It was a shame that Elton John and David Bowie didn't appear though. I was so looking forward to George Michael's performance too, however it was a bit of an anti-climax when his second song wasn't one of his classics. I don't think it was a good idea for him to try and use the opportunity to promote his new material. If he'd sung 2 classics it would have created more interest in him and put him back in the limelight with a whole new audience. New material is normally a slow build and not often an immediate hit as everyone can't sing along.
Music sales have reportedly gone through the roof since the ceremony though for all the artists with a huge worldwide audience.
What a spectacle for our country and for sport; I hope the feel good factor continues. Bring on Rio 2016 now, I can't wait.