Tackle This – by Lee Hudson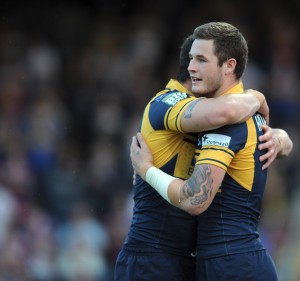 Rugby is a hard sport. Injuries happen in almost every game as huge men clash in one of the most (if not the most) physical team game in the UK. Men are men who play both codes of this rough, tough game and, if certain perceptions are to believed, it is not a game for sissy boys to watch… or take part in.
If only from a purely voyeuristic stance this is obvious rubbish. There are few gay guys who do not enjoy seeing other men running around in the briefest of shorts and getting stuck into one and other in such a raw manner and in such a public arena (or perhaps that's just me).
Players in both Rugby Union and Rugby League have legions of gay fans and, I'm glad to say, some of those players have offered their support right back. Union's Ben Cohen may be straight but he has pinned his name and reputation on speaking out about homophobia in sport. He's even set up a charity The Ben Cohen StandUp Foundation (www.standupfoundation.com) to campaign against homophobic bullying by spreading the word around the world. For those of us who are gay, know we're gay and are out, we never quite understand why there is still such an uproar when someone famous ventures out of the closet.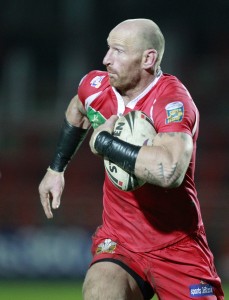 When Welsh rugby ace Gareth Thomas came out as gay it made headlines in newspapers across the globe, some offering support but more than a few in disbelief. How could a rugby star, an international rugby icon, a hard man with a family, be gay? Well tough – it happens and he is.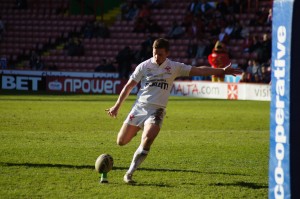 Where some sports have tried to pretend that they have no gay, bi or lesbian players… or supporters, the RFL is widely acknowledged as leading the way in LGBT equality and tackling homophobia in sport, a position that has been highlighted by a series of landmark achievements during the past few years;
• In 2009 the RFL became the first sporting National Governing Body to join the Stonewall Diversity Champions Programme and celebrated its second year as the only sporting organisation to be ranked in the Top 100 gay friendly organisations in 2012, reaching 53rd position.
• Championship side Sheffield Eagles received international coverage and approval when they became the first mainstream sports team to play a game wearing a shirt with a Homophobia Tackle IT! logo emblazoned on the front in March 2011.
• In 2011 The RFL, Sheffield Eagles and all UK Super League teams signed up to the Government's Charter to tackle homophobia and transphobia in sport and in recognition of this were invited to the Prime Minister's annual LGBT reception at 10 Downing Street.
• Gareth Thomas was only the second UK sportsman to "come out" whilst still playing at an elite level, shortly before he joined Crusaders Super League team for whom he played until his retirement in 2011. However, following a homophobic incident directed at him the RFL developed and distributed guidance material for clubs on tackling homophobia issues effectively.
• Sheffield Eagles, RFL and Pride Sports Rugby League entered a float at Manchester Pride 2011.
• The RFL initiated the Rainbow Forum, an online group open to all LGBT staff, players, coaches, match officials, club staff and volunteers.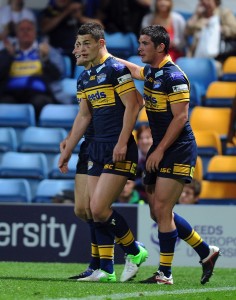 Last month saw another piece of sporting history as the first teams, the Leeds Rhinos and the Widnes Vikings, in Rugby's top division of Super League lent their support to this issue by wearing Stonewall arm patches on their shirts. Whether any of the crowd were aware of this gesture, or even cared, is debatable but it was huge acknowledgement that, unlike football, rugby is taking the problem seriously. However, I attended this game and despite this being branded as a celebration of LGBT aims, there was little around the ground to promote the fact. No Stonewall, or even Rainbow, flags flying from the stands – even though there were plenty of Rhinos flags fluttering in the breeze. The huge scoreboard didn't have any graphic or visuals to suggest any LGBT involvement. Can you imagine how brilliant it would have been if a rainbow 'swoosh' had preceded each replay? A man can dream.
There were shirts on sale in the club shop with a rainbow motif and I gather these sold fairly well, so perhaps I just missed out on some of the occasion's more positive moments. Rugby League's Equality and Diversity Manager who helped put this event together said: "It was an incredible moment when Sheffield Eagles became the first mainstream sports team to tackle homophobia and when Leeds Rhinos, one of our highest profile clubs, followed this up by dedicating this game against Widnes Vikings to celebrating LGBT inclusion it demonstrated our sports' ongoing commitment to addressing LGBT inclusion. Hopefully other Rugby League clubs and indeed other sports will take on the challenge of taking this important work forward.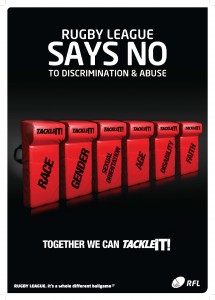 Stonewall regarded the event as a success but their Communications Officer, James Lawrence laid out a further challenge to other sporting organisations: 'We were delighted that Leeds Rhinos chose to celebrate equality –and that they won the match to boot! Rugby has worked hard as a sport – led by the Rugby Football League, one of the most gay-friendly employers in Britain – to tackle homophobia and reach out to gay fans and we hope this inspires other sports to do the same.'
www.therfl.co.uk/equalitydiversity
www.therfl.co.uk/equalitydiversity/support_networks
www.pridesports.org
www.stonewall.org.uk