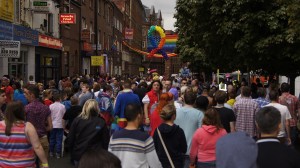 photos by:  Colin Morris
Pride is a key event in many gay men's diaries. This year we sent Adam Lowe to report on Manchester Pride, one of the country's most popular and most successful pride events.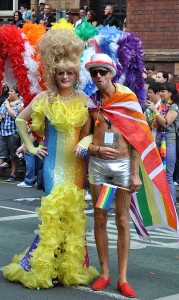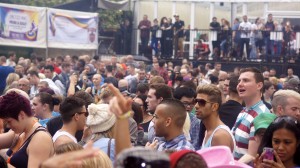 TEN DAYS OF ARTS, ENTERTAINMENT & CULTURE
Manchester Pride is a ten-day festival, although it supports great causes and charities throughout the year.
This year's Pride Fringe ran from Friday 17th August to Thursday 23rd August, including over forty events. Highlights included a range of events celebrating the legacy of Alan Turing in biology and computing, and the politics of sexuality in science. Working with Arts Council England, Pride launched its annual series of Chamber Music Concerts, which featured the work of such composers as Tchaikovsky, Schubert, Britten and Somervell, as well as Manchester Pride's Composer-in-Association, Marc Yeats.
Performance events included wordsmiths battling it out at Poet Brownie's Pride Fringe Poetry Slam, while there was a stunning exhibition by photographer Ian Brooke, and work by Jez Dolan and Rob Flood.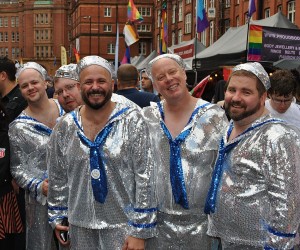 Families were welcome, with the LGBT Family Fun Day and the Pink Dog Show. The Quakers continued to support the local queer community with their Outdoor Quaker Meeting for Worship and their third Pride ceilidh, while The Prairie Dogs continued the dancing theme with a 'Wild West' line-dancing evening at Thompson's. Besides this, there was gay bingo and a quiz, a debate on safer sex campaigns, and a screening of The Right to Love: An American Family.
THE PARADE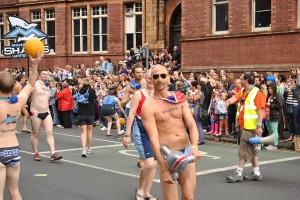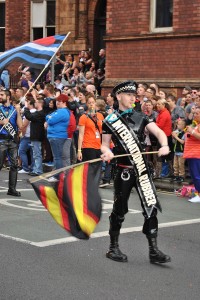 Queer visibility comes to a head in the annual parade, which forms the backbone of the festival. The usual smattering of soapstars and gay icons were present, along with floats that ranged from the colourful to the political. Despite the threat of rain on the day, the turnout was strong, proving once again the popularity of the parade not only as a celebration but as a march for equality—and a reminder that we're still here and most definitely still queer.
As with many of the fringe events, the parade was free, and its route passed outside the barriers so that a wristband for the Big Weekend site wasn't needed.
THE BIG WEEKEND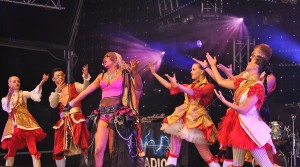 Though perhaps the main draw for many scene queens and club kids, the Big Weekend is only one part of Manchester Pride's ambitious programme.
The Big Weekend, of course, is also the touchiest part of Pride, with its £25 price-tag for tickets on the day. But for this price (and less if you buy in advance) you get access to the Gaydar Main Arena, Sackville Gardens (opened again for the vigil), the Lifestyle Expo and the Village Markets. Acts to grace the stages this year included Steps, Alison Moyet, Russell Small from Freemasons, Melanie Blatt (formerly of All Saints), dance diva Katherine Ellis and Denise Black's Loose Screw (you'll remember her as Vince's batty mother inKatherine Ellis and Denise Black's Loose Screw).
Meanwhile, there was plenty of booze, some solid festival grub and even a little glimmer of sunshine. While the downpours did dampen the street-party atmosphere at times, the venues were uniformly full to capacity, and thankfully this led to a more laidback atmosphere outside than in previous years. Night-times, of course, were as popular as ever, with venues going all out to put on their very best and the party-goers attending in force.
THE VIGIL
If the parade is the backbone of Pride, and The Big Weekend is its commercial face, the George House Trust Candlelit Vigil is its spiritual heart. A sea of tiny flames lit up the evening, in memory of those who fought and those who are still fighting against HIV at the memorial in Sackville Gardens. The mood was solemn but uplifting, as members of the LGBT community and those whose lives have been touched by the global pandemic came together to show their respects.
AND MORE
Other events that took place this year included Manfest 2012: the tenth annual fetish party, which saw revellers gear up in their best fetish gear, sportswear and underwear.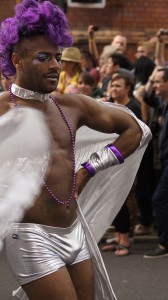 For those who preferred their dressing up to have an 80s vibe, Poptastic's UV Party was packed out in neon colours with Miss Penny Crayon, DJ Cee and DJ Si Parker.
As usual Mornin Glory mopped up the crowds with their enduring afterhours bash resident in Queer.
Cruz 101 sported PAs by Booty Luv, Livin' Joy, Rozalla and Katherine Ellis. The latter gave such a rousing performance that those at the front were literally grabbing at her skirts and begging for photographs.
Federation also put on two big events: going head-to-head with one of London's premier clubbing names in Federation & Beyond; and bidding farewell with its grand party Federation Auf Wiedersehen at the Ritz.