Leeds Pride – Sun, Hail, Rain
dating ariane 2
Sometimes trying to gear a Pride event coincide with good weather during a British summer is just impossible. The first week in August should be relatively hot but… no, no, no… the heavens opened up and what seemed like a winter's worth of rain fell in just a few minutes. Leeds Pride wasn't a wash-out – far from it. The rain was followed by the sun and, as if by grand design, the Leeds Pride had a real rainbow to get things underway. So popular has this event become over the last 7 years that even as umbrellas were being blown inside out and hail beat mercilessly on the assembled throng, nothing was going to stop the partying hordes from, well, erm, partying.
sober dating sites                                         www willcorderphotography com
Outside the gallery on the Headrow, X Factor favourites Joe McElderry and 2 Shoes got things going before a parade of the rainbow flag led the crowd through the city and onto the Gay Quarter in Lower Briggate. Here another stage was set up to promote local acts; cabaret, drag, bands and other, much loved characters from the scene, perform to an enthusiastic crowd. Topping the bill was  local superstar, Gareth Gates.
bisexual hookup app
If the weather, which seemed to alternate from dire to fine, had put off any visitors it was hardly noticeable, as venues were packed and the streets alive with constant hustle and bustle. To be honest, the whole thing could have been a disaster, after all they were also up against the Olympics but, with sport as its theme, the support was incredible.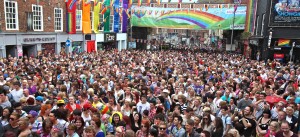 photos: terrygeorge.co.uk
As plans are already underway for Leeds Pride 2013 (on 4th August) we must add a huge 'WELL DONE' to all concerned for making this year's event so enjoyable.