Romeos to the Max + win this DVD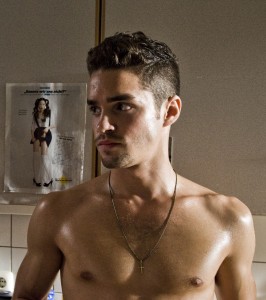 Super hunk Max Befort was born in Berlin in 1989 and lives in London and Berlin. The sexy European started his career at the age of ten and is the star of the current DVD release, Romeos… tale of star-crossed lovers with a difference.
Tell us about your character in Romeos.
Fabio's from a working class background – his Italian parents immigrated to Germany before he was born, so he is practically German, but he was raised bilingual. He's quite a redneck, but very open with his sexuality amongst his gay friends. He's living a double life though, as he feels that he can't reveal his homosexuality to his narrow-minded family members, especially not to his brother and their mutual friends. Eventually his affection towards a guy turns into something more serious – probably for the first time in his life.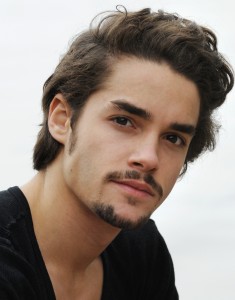 Is he a character with whom you have a connection?
I think you always have to have a connection with your character to a certain extent. I definitely have the spontaneity and lust for life of Fabio, on the other hand, I'm coming from a different background and I'm living a completely different life to that of Fabio.
There's a bit of nakedness on your part in Romeos… are you at ease in the buff?
If I like a script and I'm keen on playing a certain character, I'm willing to do whatever's required of the role.
How did you get that first job?
Perseverance and a lot of patience!
In what else might we have seen you?
I've been working as an actor since the age of ten, mostly in German productions, so you probably haven't heard of those films – but I've now got a great international team around me and my manager & agents put me up for some really exciting stuff – so watch this space!
Is there a part or a character that you would kill to play?
I'm 23 and hopefully I have a nice career with versatile roles ahead. As long as the roles are suitable and a challenge to play … it could be anything really!
You spend your time in London and Berlin but what do you do to relax?
I grew up in a very green Berlin neighbourhood – with lakes nearby – which is still home to me – and I'm living in a quiet part of London now, so I'm able to relax in both cities. Recently I've discovered the British countryside, with some friends on various weekend trips, and we ended up in some beautiful places … although I do love the beach too!
What is your guilty pleasure?
I love cooking – good healthy food, nights out with friends and all sorts of sports.
Romeos – Out: 2nd July – Peccadillo Pictures
To be in with a chance of winning this DVD, just answer this simple question:
Berlin is the capital of which European country?
comp@bent.com