PLAYING THE FIELD By Ben Coleman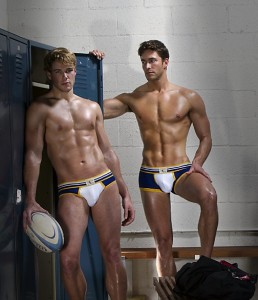 The Timoteo brand is made for the stylish athlete who seeks the ultimate in comfort and design. Best known for their Clubhouse Athlete Jock– the first brief to feature the ass-less back – Timoteo is unleashing several new lines this season. So far, their Rugby line is getting the most attention. Produced in striking colours of blue, yellow and white, with a custom designed waist-band boldly emphasizing the brief's strength, Rugby is taking the 'play' from the locker room into the bedroom.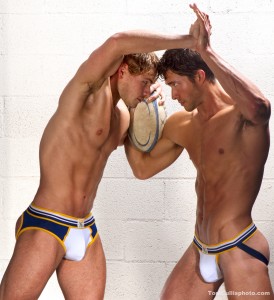 "Rugby may just become the 'it' underwear this spring," predicts Timoteo Ocampo, the company's founder and head designer. Before launching Timoteo, Ocampo worked as a designer; first for XOXO and later at Baby Phat, where he helped launch the brand with Russell Simmons and Kimora Lee. "The collection is infusing fashion into fitness wear by combining high quality fabrics, vibrant colors, and a fit that accentuates a well-toned body."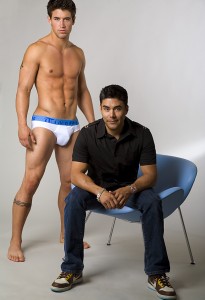 "Design is about attending to the littlest details," he continues. "Colour, texture, fit and construction all have to compliment one another. Ultimately, Timoteo is about looking and feeling good in clothes.
Timoteo launched ten years ago as a small storefront in West Hollywood that manufactured select fashion pieces for men. It has since evolved into a fun and hip brand that produces a full line of product across multiple categories including denim, sports tees, tank tops, underwear, swim and athletic wear.
So, it sounds like it takes a lot of hard sweat to compete in today's fitness-fashion world.
"We're lucky. We have the perfect gear to wear to play hard and win. I love designing for men who like fashion," says Ocampo. "My job is to provide guys with gear that enables them to play hard in this game we call life.
Visit: www.bent.com Photos: TomCullisphoto.com