CHANNING TATUM: STRIPPED By Alex Wiggan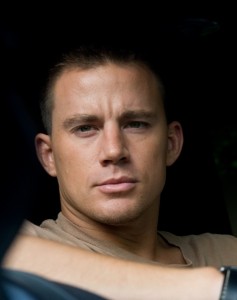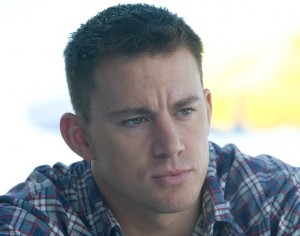 Channing Tatum. Come on, say his name. Yes you, the one who is reading this feature as you peer over your boyfriend's shoulder, it's your turn to utter those words. Channing Tatum. Now that wasn't hard (no pun intended) was it? Right, now let's complete the trilogy here; say it with me once more. Channing Tatum.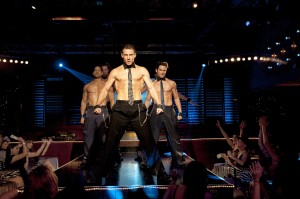 Oh, just the mere sound of the name Channing Tatum is enough to send many a fella into a fierce frenzy and it's not all that surprising seeing as Channing Tatum is one of Hollywood's hottest properties right now. By the end of 2012 Tatum will have appeared in five brand new movies – Haywire, The Vow, 21 Jump Street, G.I. Joe: Retaliation and Magic Mike – and that's not bad going for a former stripper turned actor. Yes, you read that correctly, before appearing in such films as Coach Carter, where the lockerroom has never been so… erm… sweaty, Step-Up, Dear John and She's the Man, Tatum had a brief career as an ass-wiggling, crotch-thrusting, nipple-twitching, male stripper! In fact new movie, Magic Mike, is loosely based on Tatum's pre-acting days and not only does the hunk himself co-produce and star in a tale practically ripped from his own life story, but he gets to shake his ass alongside other hunks including, Alex Pettyfer and Matthew McConaughey.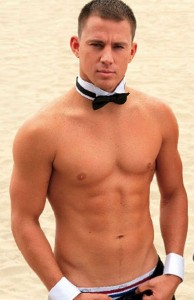 For some this will be a glimpse into a part of Tatum's life that they were not even aware of, but for others this will be the chance to see more footage of the Hollywood heartthrob as he gets to do what he does best. Yes, that's right, this won't be the first time some fans will have seen the Chan-man doing his thang, as footage of Tatum filmed during his stripping days does already exist online. The video is easily accessible via a quick route through Google by the way and although very brief and not as revealing as some would like, the video is worth a quick perv over during your fag break.
Dressed in a baggy top and trousers, the then 18-year old Chan gyrates on a stage to cheers of encouragement from his audience, before he removes his top to reveal his chiselled torso. After much muscle twitching Tatum then dispenses with his trousers to reveal a very tight G-string (and a nice pert ass) before he busts a few moves and rounds things off with a trouser twitching groin grab. If you've never seen the footage then go home, find the clip, put the video on loop and prepare yourself to be busy for a while. Don't expect to see the money shot though, because it isn't there (this isn't a celebrity sex tape), but if you're a Tatum fan then get-a-Googlin' and enjoy seeing him hard at work.
Side-stepping his obvious assets, not only is Channing Tatum a pretty face on screen, he's also making a name for himself behind the camera with a number of producer credits to add to his CV. At the moment Tatum's star is on the rise and with hit movies – 21 Jump Street and G.I. Joe: The Rise of Cobra – proving he's bankable at the box-office he is quickly becoming a name on everyone's lips. So, once again from the top, and this time let the name roll around your tongue, just say it with me. Channing Tatum.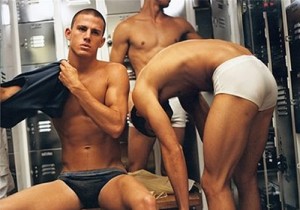 EXPOSED:
*Born in Alabama, Channing Tatum was 'discovered' by a talent scout on the streets of Miami. He wasn't living on the streets you understand, he was just out walking one day and the rest is history.
*As well as his brief stint as a stripper – going under the name Chan Crawford – Tatum has also modelled for such big names as Armani, Dolce & Gabbana and Abercrombie & Fitch. He also appeared in a Ricky Martin music video. Yes, it was 'She Bangs'.
*During his early days in the movie industry, Tatum was discouraged from talking about his stripping background through a belief that it could harm his career. Er… hello, if us gay boys had known about this earlier we'd have been off down Blockbuster renting all of his movies!