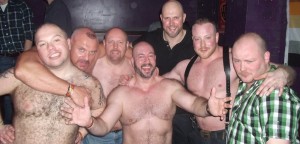 Scruff, one of the biggest gay apps available on iphone and android have legendary club nights all over in America.
They are now holding their first ever UK/European club night event at Legends Club – Manchester.
The night is being hosted by Bear Club UK, the monthly club night held on the first Saturday of every month at Legends.
Johnny Scruff and Jason Scruff, from the Scruff team will be flying over from the States to attend the event and give out some freebies! Along with over 2000 free shots for those that come early, which should get you in the party mood!
Legends Club has 3 separate dance floors/rooms. We'll be playing different types of music in each section – hopefully something for everybody!
Britain's Got Talent finalist – The Dream Bears and Leeds finest, Bears Aloud will be starting off the night with some live entertainment in the dance bar. Followed by Mr Scruff UK, so expect some nudity, fun and frolics… then we'll be playing your favourite tunes until 4am!
Downstairs will be The Leather Lounge playing hi-energy music, for those who like to strut their stuff in Leather or Rubber… along with their admirers.
The Tunnel section of the club will be playing a mix of dance floor fillers, club classics and hi- energy tracks to keep you going.
The event also falls on the same weekend that Manchester are playing host to the gay rugby world cup.
Meaning there will be around 1500 gay rugby players around that night, along with their supporters – so should be a hot night.
Check out our pics on facebook.com/bearclubuk and facebook.com/scruffapp
To guarantee entry you can book discounted tickets in advance via www.bearclubuk.com
Or you can pay on the door.  £7 entry or just £4 if you show the Scruff app on your phone to the cashier!