SADDLE UP FOR THE RIDING ROOM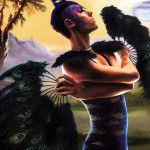 Glasgow's newest gay venue The Riding Room brings a touch of theatre to the Scottish scene. The Riding Rooms liquor and cabaret bar opened last month for exotic drinks and exuberant dancing, cream-of-the-crop cabaret, riotous repartee, can can kicks and sensational show-stoppers.
Nestled between two of Glasgow's most famous gay institutions – The Polo Lounge and Delmonicas – The Riding Room opens each evening at 5pm and runs through until 3am. Design comes from the award-winning Surface-ID who have used many reclaimed and up-cycled materials in creating a relaxed bar with a vintage feel.
The entertainment isn't kept to the stage though with a great deal of theatre behind the bar. Sharing cocktails come in copper kettles, many drinks are served in tin cans and there can't be too many bars in Scotland that train staff in the handling of dry ice…
The Riding Room, 58 Virginia Street, Glasgow G1 1TX  Tel: 0845 659 5904 www.theridingroom.co.uk
PRIDE SCOTIA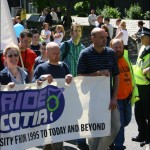 Pride Scotia has announced plans for Scotland's National LGBT Pride, which will take place in Edinburgh on Saturday 30th June.
The Pride March will assemble from noon outside the City Chambers in the High Street where the Council will be flying the Rainbow Flag. After speeches, the march will move off down the Royal Mile where it will be joined by floats on the high profile route past the Scottish Parliament and Holyrood Palace before passing a number of popular LGBT venues and finishing up at the Omni Centre.
The Order of Perpetual Indulgence will be hosting an unlicensed Tea Dance in Mood from 2-5pm with free tea, cake and sandwiches – this event is suitable for folk of all ages – especially those who enjoy music of  the 20's and 30's!