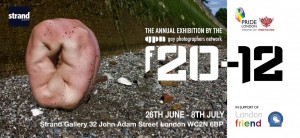 f20-12 is an exciting exhibition of new photography from the Gay Photographers Network.
Following the success of last year's show, which raised over £1300 for charity and had over 1,000 visitors, the group is once again proud to be official participants in the Pride London festival of cultural events. To mark London hosting World Pride, the 2012 exhibition has been extended to cover the 2 weeks of Pride Festivities and will include photographs by almost 60 group members. With work from emerging and established photographers, f20-12 promises to both challenge and excite the viewer as well as provoke questions about the world around us.
The photos exhibited will be available for sale with prices to suit all pockets. Sales will help to raise money for the Disabled Photographers Society and London Friend, the two charities the Gay Photographers Network supports with their annual exhibition.
f20-12 will run 26th June –  8th July @ Strand Gallery, 32 John Adam Street, London WC2N 6BP